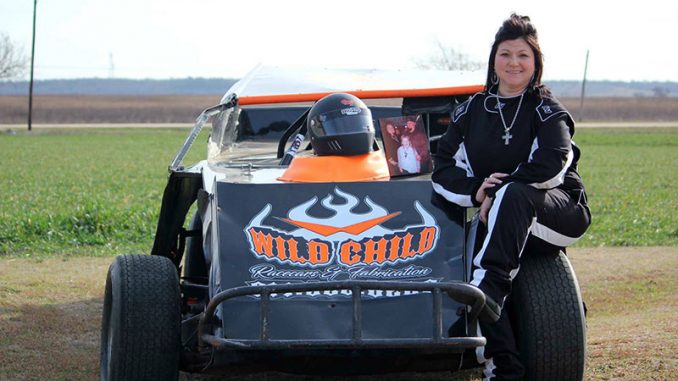 ITASCA, Texas – Ashley Holbert would have been content as a race fan and her husband's crew chief and number one supporter.
Instead, she'll carry on his legacy this season racing his Smiley's Racing Products Southern SportMod.
Rowdy Holbert died Jan 11 at the age of 30 in an oilfield work accident. After a suggestion from their daughter Kaysen, Ashley decided to make 2018 her rookie season in the IMCA division.
"It just seemed like the natural thing to do. I couldn't imagine not being at the track," she explained. "I've talked to family, friends and some guys Rowdy worked with and they were all 100 percent supportive."
"I feel honored. What an opportunity to continue our family's legacy," Holbert continued. "We were always ready to go to the track Friday and Saturday nights. I can't imagine stepping away from this arena."
Ashley and Rowdy were a couple for nine years and would have celebrated their fifth wedding anniversary on July 21. Kaysen helped Rowdy's best friend Brandon Williams drive her father's car around the track during parade laps when his celebration of life was held at Kennedale Speedway Park.
"Racing is a family thing for us," said Holbert. "She knew the season was starting soon and Kaysen asked if we were still going to go to the track and would she still get to see her friends there. Then she asked why I didn't drive daddy's car."
Rowdy's car had been at Williams' house. Holbert discussed her daughter's suggestion with him and Williams promptly finished putting the engine in for her.
"My stepdad raced at Cowtown (Speedway) in a bomber and I grew up in the sport. I had always wanted to drive and Rowdy and I had talked about it, but I was content to be a fan," said Holbert, who will share private pre-race prayers this season with her daughter instead of her husband. "I don't expect to be good, I expect to learn. I'm hoping to make a few laps, stay out of everybody's way and have a good time."