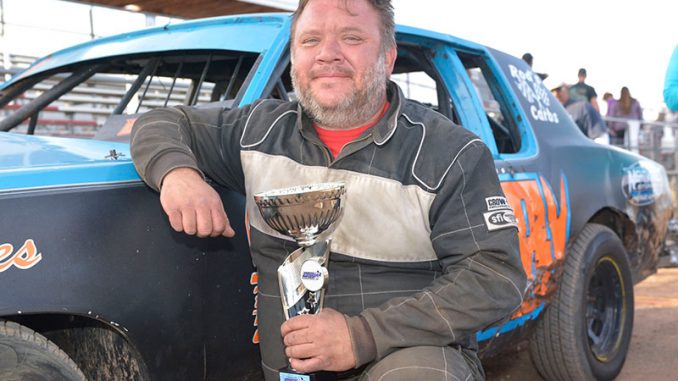 GLENDALE, Ariz. – Joe Vlasity's main goal this season is just to get his new IMCA Sunoco Hobby Stock built.
After starting 2018 with three straight feature wins and then a runner-up finish in the Winter Chal­lenge Series finale at home track Canyon Speedway Park, he's started to think more about a cou­ple other objectives.
"Last year, we bought an Eliminator Chassis out of Iowa. Our main goal this year is to get that built, hopefully by the end of February," said Vlasity, who won seven of 12 starts in 2017 in a older home-built car he'd bought and then converted from the local factory stock class. "What I want to do this year is run for state and track championships."
Early season track conditions favored the Illinois native, by profession a mechanic for the City of Glendale and a regular at Canyon for most of 10 years.
"I'm pretty used to dryslick and that's the way the track went all four nights," Vlasity said following his Jan. 20, 21 and 27 wins and the second-place showing on Jan. 28 at Peoria. "I can handle a car pretty well on a dry slick track."
Vlasity started his on-track career in enduros at Manzanita Speedway, racing 75 laps one way, then turning the car around and racing 75 laps the other. A one-man operation, he piloted a bomber at Canyon before making the move to the sanctioned Hobby Stock class in 2016.
"There's a lot of good competition out here. The biggest thing for me has been getting used to the smaller tires," said Vlasity, noting that a crate engine he purchased used helped with his budget-minded approach. "I like the affordability of this class. I like to race, be competitive and not have to put a second mortgage on the house."
Ultimately, he hopes to race and be competitive some day at the IMCA Speedway Motors Super Nationals fueled by Casey's.
Stock Car driver Nick Langer lives just down Libre Avenue and helps Vlasity work on the car, as do girlfriend Kim DiMascio and her son Noah.
Vlasity's sponsors include Lucky Graphics of Glendale, Nightmare Motorsports of Mesa and D & M Cores and Rod's Carburetors, both of Phoenix.