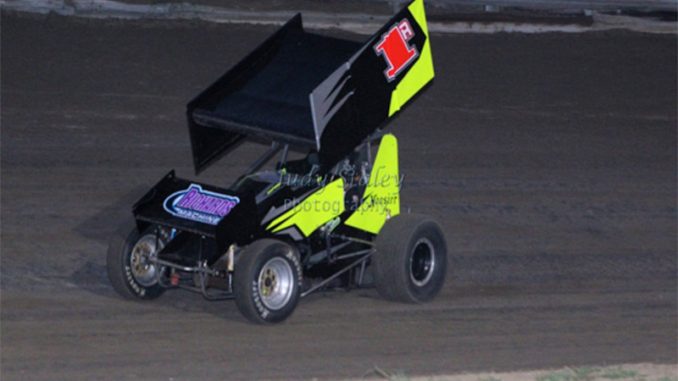 By Rick Staley
OSBORN, Mo. – Matt, Cade and Jessica Richards are truly a racing family, competing on the highest level at tracks throughout the Midwest.
Calling Eagle Raceway his home track, we will also see Matt behind the wheel of an IMCA RaceSaver Sprint Car at US 36 Raceway this season, adding to a loaded field of competitors.
Matt is from Lincoln, Neb., and pilots the no. 1R, the same number as his son Cade, who drives an E-modi­fied at US 36 weekly. Married to Jessica, who also can wheel a racecar, winning her powder puff feature on fun night, they all travel and race as a close knit family and are respected by all.
Matt is self-employed, running Richards Machine Shop and is passing his skills to his son. To say Matt has raced everywhere would be an understatement, so let's name a few of the tracks he has competed:
Belleville, Kan., Eagle Raceway, Lee County Speedway, Atchison County Raceway, Iowa State Fair­grounds, Rocky Mountain Speedway, Junction Motor Speedway, I-80, US 30, Beatrice Speedway, Butler County Speedway, Crawford County, Shelby County, North Platte, Kossuth County, Lakeside Speedway, Heartland Park Topeka, Thomas County, Audubon, Iowa, Elmwood Park, Sherman County, Byers, Colo., and US 36 Raceway.
Matt has found victory lane on many occasions at many different tracks and divisions as he has raced Sprints, Modifieds and Late Models. Career highlights for Matt are many as he was IMCA Modified track Champion at Butler County Speedway, NASCAR track champion at Junction Motor Speedway, ASA cham­pion at Audubon and Whelen NASCAR All American.
I have watched Matt compete and he never disappoints and is one of the cleanest drivers you will witness and is the same humble person in victory or defeat. A special moment for Matt was when Cade won his first E-modified feature at US 36, holding off three track champions and six former winners to capture the win. I still think he may have had to go to the doctor to get the smile removed from his face.
Sponsors on the always fast and competitive no. 1R Sprint Car are Richards Machine and Husker Car Wash as he always brings a beautiful hot rod to the track.
Something fans may not know about Matt is his work ethic is second to none. On Fun Night at US 36, Jes­sica would race the Powder Puff and Cade would race the Winners Series. Between each race Matt would go to work changing the seat, steering sector and making any other adjustments needed. He would do this a total of five times during the night just so his family could compete.
Jessica won the Powder Puff and Cade saw a great second place run in the Winners Series. I like to pick on Matt and remind him that both Cade and Jessica are winners at US 36 Raceway and he is the only family member not to have won there. He just smiles and continues to work.
Respect from his fellow racers, love and respect from his family, and a crowd favorite is the words I would use to describe Matt Richards. 2018 will see Matt behind the wheel of an IMCA RaceSaver Sprint Car and we look forward to seeing him compete and put the no. 1R in Lake Road Warehouse Winners' Circle at US 36 Raceway, the only problem being there will be about 24 other competitors in this class wanting to stamp their mark in victory lane as well.
Hopefully Cade and Jessica can give Matt a few pointers and secrets on getting the win at US 36 Race­way. What a year this will be at US 36 Raceway with this caliber of drivers doing battle on the fast High Banks. Good luck Matt Richards!