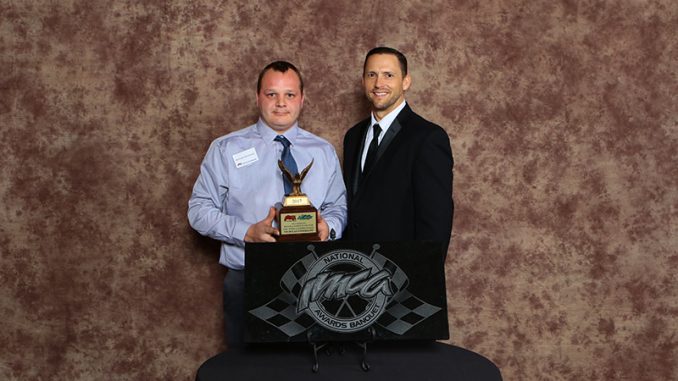 LOWELL, Mich. – He didn't get a feature win but Nick Stormzand did accomplish the goal he set for himself at the start of his first IMCA Modified season.
The Dirt Works Eastern Region rookie of the year qualified for the main event in all 36 starts this year, with three runner-up finishes.
"These guys are always on their game but I know I'll get a win," the Lowell, Mich., driver said. "I knew coming in that being a rookie, it would be tough to make the show. I was hoping to make every feature and I did. I was pretty proud of that."
Stormzand logged 19 starts at Crystal Motor Speedway, where he ended fifth in the point standings, with another nine outings at Tri-City Motor Speedway and eight at I-96 Speedway. He was fifth in the Allstar Performance Michigan State points race.
"The IMCA Modifieds are the most competitive division around here," he said. "You can go anywhere around and race them and compete against the very best every weekend."
Stormzand had decided to start his own on-track career after his father, who had raced on asphalt and dirt, passed away. He ran a street stock for half a season, then wheeled a pro stock – which he likened to a cross between a Modified and a street stock – for another two seasons.
Randy Ruesink and Gary VanderMark encouraged him to move to the sanctioned division.
"The drivers are all really good guys and willing to help you if you need it," Stormzand said. "IMCA Modifieds are a recognized class all across the nation and you can buy a lot of the parts you need right off the shelf. Those are two of the things I like most about it."
Starts-36
Wins-0
Top Fives-9
HIS CREW: Wife Kendra and Kenny Ruid. 
HIS SPONSORS: Stormzand Asphalt, Show Boat Automotive, Ryan Excavating, Scholten Landscaping and Century Post Pub, all of Lowell; Horsepower Innovations E85 Carbs of Caledonia; Sweet Graphics, Mount Pleasant; and Dynamic Crushing of Ionia.