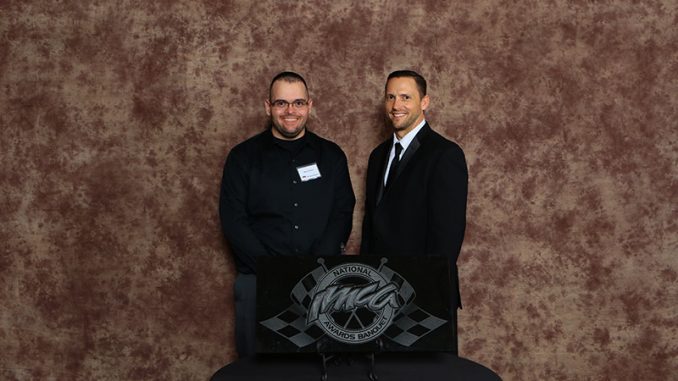 GILLETTE, Wyo. – The timing of a phone call got Marty Erivez in an IMCA Modified.
His consistency throughout the season got the Gillette, Wyo., driver rookie of the year honors in the Larry Shaw Racing Western Region.
"I had raced for more than 10 years before selling everything, buying a house and taking a year off," Erivez said. "I was going to pick up a B mod in Minnesota when I got a call from a guy in Montana about a Mod­ified (a 2012 Side Biter). I canceled my plans to go to Minnesota and bought the Modified instead."
He logged 22 starts in 2017, 13 of them at his hometown Gillette Thunder Speedway, where Erivez finished third in the point standings.
His best feature finish was second, by half a car length, to Rob Hoffman in the May 27 show at Gil­lette. Erivez posted six more top five five finishes and ended fourth in Allstar Performance Wyoming state standings.
Erivez was a two-time Western region champion and three-time state champion with Wissota. He had won two track championships in the Midwest Modified class and two more in a limited late model class, all at Gillette, before moving to the IMCA division.
"I came close to winning a couple times. It's tough to get wins when you're running with Eddie Kirchoff and Tony Leiker but we were very happy with the way things turned out this year," he said. "I really like the competition in an IMCA Modified. You can go anywhere with them. It was a blast and I had so much fun with it."
Erivez is the first Wyoming driver to score regional rookie of the year honors since Don Robertson Jr. of Green River in 1998.
Starts-22
Wins-0
Top Fives-7 
HIS CREW: Wife Kari and Nate Gilmore 
HIS SPONSORS: Parents Martin and Vonnie Erivez, Black Hawk Crane, Overhead Door, NAPA Record Supply, Domino's Pizza, Wyoming Corporate Cleaners, Platinum Auto, All Dimensions Fitness Center and Lightning Lube, all of Gillette; Dakota Bus Service of Spearfish, S.D.; Heidler Ranch of Opal, S.D.; and Jack­son Dental of Belle Forche, S.D.