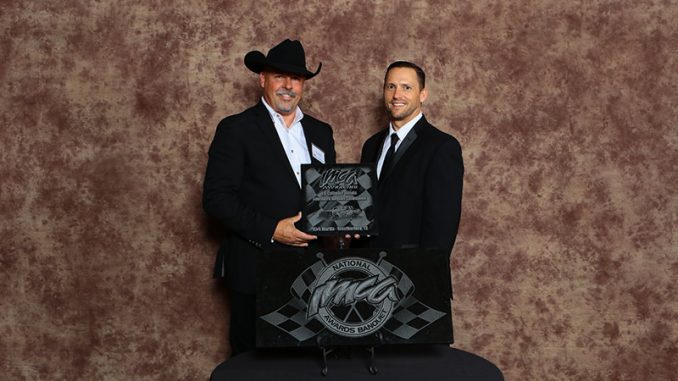 WEATHERFORD, Texas – There's a running joke in Kirk Martin's household about whether or not he's running for points.
An early season winning streak helped convince him to do so this year and a career season-best 20 IMCA Sunoco Stock Car checkers paved the way for his first EQ Cylinder Heads Southern Region championship.
Second in the national standings, the Weatherford pilot also earned Boyd Raceway and Allstar Performance Texas State honors.
"It was a phenomenal year for us. We started a streak of what became nine wins in a row (be­tween March 11 and April 8). They just kept coming. We knew the streak was going to end and on a couple of those nights I was more lucky than good, but a win's a win," Martin said.
Another streak, this time of four straight checkers, came in August and helped him nail down the regional and state crowns as well as the runner-up spot in the national standings.
"I had the most races I've ever run (53) this season and was really surprised that at the end I was second in the nation. There are some extraordinary drivers in the top 20," Martin said. "To be se­cond nationally behind Mike Nichols is pretty incredible."
He won eight times at Boyd, six times at Kennedale Speedway Park, four nights at 281 Speed­way and twice at Heart O' Texas Speedway. Martin is now planning to follow more series and travel to special events outside his region next season.
"Everything worked out good for us this year. I can't explain how ecstatic I am. It's obvious this is the peak of our racing career and I am really excited about what will happen in 2018," he said. "We will probably go to RPM Speedway for the Sunflower Classic and follow the Kupper Chevro­let Dakota Tour. I want to race with some of the other drivers in the top 20 and have fun at their tracks."
While he didn't take the checkers that night, one of Martin's highlights of the season came in his one visit to Southern Oklahoma Speedway when he displayed the American flag during the pa­rade laps accompanying the playing of the national anthem.
"I was really honored when they asked me to do that," he said. "It meant a lot to me."
Starts-53
Wins-20
Additional Top Fives-20 
HIS CREW: Wife Wendy, Mark Adams, Michael Lamb, Charles Lamb, Mike Ellis, Shane Ellis, Danny Sims, Brent Sauble, Richard Shirley and David Lee. 
HIS SPONSORS: Kamco Trucking and Fully Involved Motorsports, both of Weatherford; Tangle­wood Oilfield Services and Gary and Danny Brown of Decatur; WCH Racing Engines and Jam­mie Wells of Midlothian; Sunoco Fuels and Warren Wright of Grandview; TruForm Wheel Covers and Derek Cates of Waco; Showtime Designs and Bradley Poor of Abilene; and Willam Gould Racing of Calera, Okla.