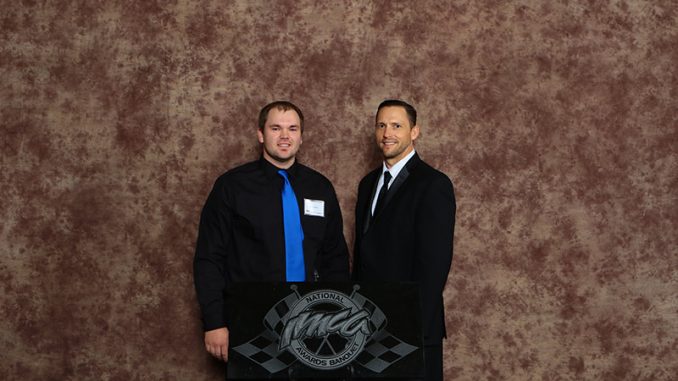 IONIA, Mich. – A.J. Ward was as fast on the interstate as he was on the dirt.
He's got a second straight Dirt Works Eastern Region championship, among a trailer full of IMCA hon­ors, to show for all that speed.
The Ionia, Mich., driver got on line to find a new ride after getting caught up in an early May wreck. He bought and picked up a 2015 BMS ride out of Iowa mid-week, drove home and rebuilt the car in just a day and a half, then promptly topped a $1,500 to win event at I-96 Speedway.
He finished the season with 17 feature wins, earning track titles at I-96 and Crystal Motor Speedway and another Allstar Performance Michigan State crown.
"I don't believe you're a true champion until you stay on top," said Ward. "Our whole goal this year was to repeat as regional champion and have a solid shot at the national points, and we accomplished that."
He rallied after restarting at the back of the field to beat Gary VanderMark and Myron DeYoung to the checkers at Lake Odessa in a late June outing. Ward went no more than five races (the span from July 3-15) without a win before getting back in sync.
"We hit kind of a dry spell at Crystal but we got our motivation back and got nine wins in our last 15 starts," he said. "Our whole focus was spot on. I was racing better and the number of wins showed it."
Ward's track-by-track numbers showed nine wins at I-96, six at Crystal and two, including the Battle by the Bay, at Tri-City Motor Speedway.
A two-time heat winner, Ward raced his way into qualifying features three nights at the IMCA Speedway Motors Super Nationals fueled by Casey's. He ran third in his final sanctioned start of the sea­son, Crystal's Great Lakes Nationals.
Ward will go into 2018 with 81 IMCA Modified career wins and new regional and national aspirations.
"I want to get to 100 career wins, hopefully by or just after mid-season," he said. "We will have new sponsors and new equipment and are going to hit everything as hard as we ever have next year. Hopefully the wins and the points will follow."
The only other Michigan driver to win an IMCA Eastern Region title is Rick Stout, in 1995 and 1996.
Starts-38
Wins-17
Additional Top Fives-10 
HIS CREW: Ryan Bennett, Tony Williams, father Frank, son Kraton, Spencer Flint, Jeff Dygert, Kyle Shattuck, Brandon Linderman and Jordan King.
HIS SPONSORS: Four Seasons Mobile Pressure Washing, Level 5 Construction, Darin Elliott with Green Ridge Realty, CL Trucking & Excavating, Smokey Mountain Tobacco, Ionia Race Car Swap Meet, the Ben­nett family, Tommy Fochmocher, and Animal House Dog Grooming, all of Ionia; XLT Engineering of Kaw­kawlin; Abbott Hayes Pool Construction of Bath; TWI Installation and S and M Video, both of Stanton; Seaver Motorsports of Sheridan; Wellman & Son Machine Shop and White's RV Rental, both of Fenwick; Brinn Inc. of Bay City; BMS of Great Bend, Kan.; Friesen Chevrolet of Sutton, Neb.; Wehrs Machine of Ban­gor, Wis.; Bob Harris Enterprises of Ames, Iowa; Quickcar Racing Products of Lebanon, Tenn.; and Close Racing Supply of Eldred, Pa.