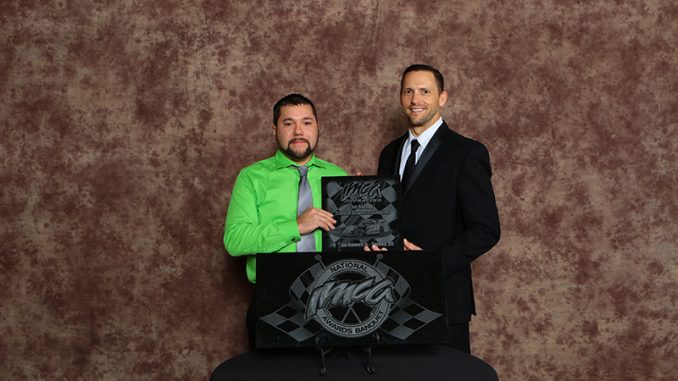 TOPEKA, Kan. – It's a good thing Steven Bowers Jr. doesn't believe in bad omens.
Bowers ran out of gas en route to the practice night that preceded the season-opening Sunflower Classic at RPM Speedway in March.
Undeterred, he returned to Hays to sweep the weekend IMCA Modified features and begin his drive to the Jet Racing Central Region championship.
"Winning the region is pretty cool," said Bowers. "Winning both nights of the Sunflower Classic was probably the highlight. It really amped up our season and we went from there."
Bowers totaled 14 wins despite "a rough July," along with Thunder Hill Speedway and Heartland Park Topeka track championships and the Allstar Performance Kansas State crown.
Fourth in the national points race, he'd collect six checkers at Heartland Park, three at both Thunder Hill and RPM, and single victories at Salina Speedway and Beatrice Speedway.
The Topeka, Kan., veteran drove a homebuilt car to his career-first regional title. He plugged both the cost of the division and the point system that allowed him to compete for regional honors.
"One of the best things about IMCA is that you don't have to race 100 times to be a regional champion," Bowers said. "A regional championship is something that I would never have been able to win racing for some other sanctioning bodies."
Starts-48
Wins-14
Additional Top Fives-23 
HIS CREW: Fiancee Rhonda McNorton, John Meinholdt, brother Bryan Bowers, Ben Keithley, Blake Hanika, Greg Overbey and Alexa Gaither.
HIS SPONSORS: Meinholdt's Welding & Machine Shop, Harold's Tires, Plumbers and Pipefitters Local 441, Schmelz's Mad Mike's Barbecue, Capital City Nissan, Straight From North Topeka, Heartland Tree Service, Advantage Recycling and Metals, IBEW Local 226, Signs by Taco and American Eagle Tax, all of Topeka; Feldkamp's Furniture; Akin Trucking of Saint Mary's; BSB Manufacturing of Wellington; Rod End Supply of Olathe; On Another Level Designs of Lawton, Okla.; Schoenfeld Headers of Van Buren, Ark.; Swift Springs of Chino Hills, Calif.; Wehrs Machine of Bangor, Wis.; A & A Manufacturing of Spring Lake, Mich.; REAL Racing Wheels of Independence, Iowa; Dickson Racing Shocks of Williamstown, W.V.; and PFC Brakes of Clover, S.C.