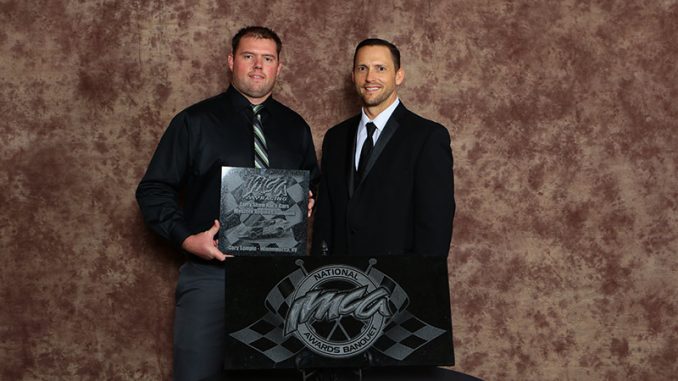 WINNEMUCCA, Nev. – After winning a second straight Larry Shaw Racing Western Region crown, Cory Sample gave some thought to the day when he'll make a large addition to his trophy collection.
From Winnemucca, Nev., Sample won 23 of 50 IMCA Modified starts while traveling to a baker's dozen tracks in five states this season.
Champion at both Rattlesnake Raceway and Winnemucca Regional Raceway, he also won a second straight and career fourth Allstar Performance Nevada State crown.
All those titles came behind the wheel of a 2010 Razor Chassis. Sample has a total of 83 feature wins in that car since he bought it four years ago.
"It's been the perfect car for us. I don't know of another driver who has as many wins in the same car," Sample said. "When the time comes for us to get a new car, we won't sell this one. It will become a trophy."
Runner-up in the national points race for a second consecutive season, Sample won four of six April starts. He had a streak of five straight checkers at the end of the season.
"We didn't set out to win the regional championship but we felt good after last year and just kept winning this spring. By mid-summer we made the decision to keep going for the region the rest of the year and while we didn't travel as much as usual, we kept plugging away," Sample said. "I don't like getting national runner-up two years in a row because I always want to do better than I did the year before. It gives us more drive to go for the top spot."
"The bonus points did not work out in our favor but I am not disappointed by any means," he continued. "Twenty-three wins in 50 starts are pretty good stats."
Sample totaled nine checkers at Rattlesnake and another six at Winnemucca. He ended the season with double figure wins for the fifth time in his career.
"We got to work out some bugs right away on the Arizona Modified Tour and race with some very stout fields," Sample said. "We wanted to go to Arizona and race and just have fun, and we were able to do that."
While no one race during the weekly point season stood out as a highlight, Sample came oh-so-close to achieving a career-long goal of qualifying for the main event at the IMCA Speedway Motors Super Nationals fueled by Casey's.
"We made qualifying features all three nights at Boone this year," he said. "We always look forward to Super Nationals and I'll be back next year."
Sample's 134 career wins are 23rd on the all-time list for the division.
Starts-50
Wins-23
Additional Top Fives-18
HIS CREW: Father Rodney, Eddie Poole and Kyle Ruh. 
HIS SPONSORS: Razor Chassis of Platte Center, Neb.; Wells Deisgn of Ogallala, Neb.; Area 41 Motorsports of Lovelock; Dakota Diesel of Battle Mountain; Icon Pistons of Carson City; Keyser Manufacturing of Coopersville, Mich.; and Dynamic Drivelines of Des Moines, Iowa.