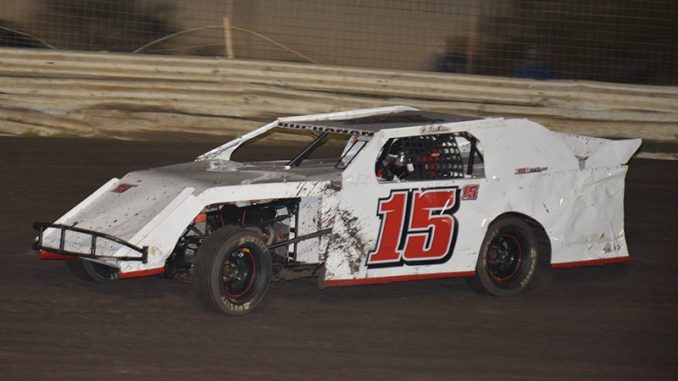 KEMP, Texas – Nathan Buchanan started the 2017 season with the goal of winning Scoggin-Dickey Parts Center Southern SportMod rookie of the year honors.
Goal accomplished.
In his first full season of racing in any class, the Kemp, Texas, hotshoe followed an ambitious schedule that took him to eight different tracks. Fifteen of his 40 starts came at 85 Speedway, where Buchanan won his career-first feature on July 22.
"I couldn't believe it when they threw the checkers and pointed me to victory lane. Everything was really cool," said Buchanan, fourth in the standings at 85 and 16th nationally. "I couldn't believe it then. I still can't."
Self-funded, Buchanan had raced a street stock a couple times in 2005. His father Ronnie had raced and he came into the year with a learn as you go approach that paid big dividends.
"It was always my dream to race and I finally got the chance to do it. I learned a lot as we went. We started from scratch. I think I started with five ratchet wrenches and a pack of sockets," Buchanan said. "We started with the goal of winning rookie of the year, took a little time off at mid-season and then came back racing twice a week in June to make up a 400 point deficit. We gave it everything we had."
"It takes a lot to race two nights a week, especially when things don't go right on Friday and you're up late at night or up early the next morning fixing the car for Saturday," he said. "I'm already looking forward to racing in this class again next year. I like everything about the division, I like the other drivers I race with and I like IMCA. Hopefully I can get to more tracks."
Starts-40
Win-1
Additional Top Fives-5
HIS CREW: Clint Oliver and girlfriend Ashley Mullican.
HIS SPONSOR: Buchanan Motorsports of Kemp.