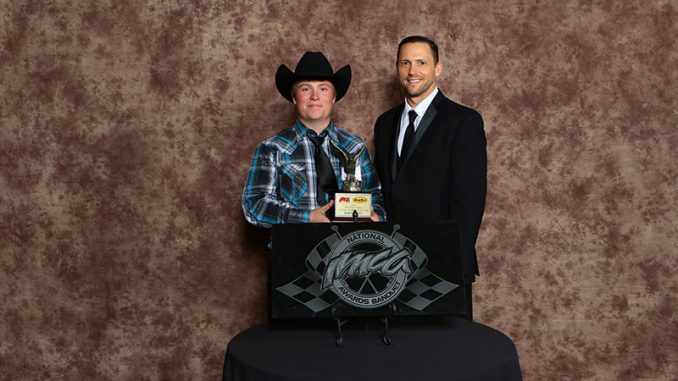 WEATHERFORD, Texas – Coming from a drag racing family, Dakota Dees didn't understand how going fast and turning left could be all that difficult.
Now that he's done it himself, he understands.
The Mach-1 Sport Compact national rookie of the year won seven of his 30 starts and six of his last 10 outings, finishing third in points at 281 Speedway and at Boyd Raceway. Girlfriend and Allstar Performance Texas State champion Julia Childs was runner-up in the standings at both tracks.
"I watched her do it and thought it was awesome. She got me hooked on it," said Dees, from Weather­ford. "Before I started racing, I couldn't figure out how it could be so hard. When I started (in Julia's original car) I couldn't keep it on the track."
"I'm ecstatic about winning rookie points," he added. "It's the last thing I ever thought would hap­pen."
Dees' first win came on April 29 at 281. After rolling his car at Boyd on May 12 he was consistent but didn't make his way to victory lane again until mid-July. Dees picked up three wins at Boyd and three more at Stephenville before the season ended.
"I finally got confident behind the wheel. I figured out you put it to the floor and don't let up," Dees said. "This class is no piece of cake. It amazes me that I could run with top dogs like Julia and Brandon Segura. It was the greatest time I've ever had in my life."
Starts-30
Wins-7
Additional Top Fives-9
HIS CREW: Julia Childs, Mike Childs, brother Colten, Garrett Aaron, Kaleb Watson, Howard Wat­son, Justyn Butler, Trevor Brunz and Tonya Watson.
HIS SPONSORS: Auto Pro of Mineral Wells; Armadillo Auto Restoration of Hamilton; Wild Child Roll Cages of Kennedale; Parker County Automotive and Magic Cobra Motorsports, both of Weather­ford; and the Dees, Watson and Welborn families.