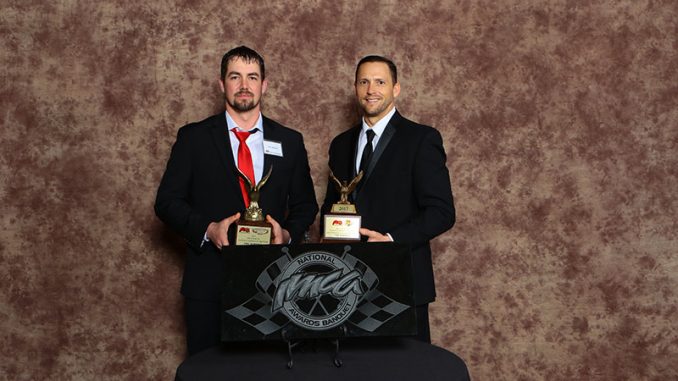 BISMARCK, N.D. – After putting on some miles during the final weekend of the point season, Eric Harpole could make plans on where to display IMCA Sunoco Stock Car national and EQ Cylinder Heads Northern Region rookie of the year awards.
From Bismarck, Harpole became the first North Dakota driver to win either award, by a scant one point margin over Tommy Fose. He ran both nights at Beatrice Speedway's Septemberfest, then loaded up the next morning to head for Quincy Raceway in Illinois.
"I left Beatrice at 10 a.m. on Sunday and pulled into Quincy with just enough time to zip tie the car together," he said. "We went out, hoped for the best and finished fourth."
Harpole had raced a Wissota street stock, which he said was similar to an IMCA Sunoco Hobby Stock, for five years. Buddies Bob Fuegmann and Mike Swallers already raced in the Stock Car division and encouraged him to do so as well.
"I wanted something more. The Stock Car is more of a race car. You can't adjust a street stock the way you can a Stock Car," Harpole explained. "It's a fun class. After racing a Stock Car, I'm happy I made the switch."
His weekly point season travels took Harpole to 10 tracks in four states; he also qualified for four of the Kupper Chevrolet Dakota Classic Tour main events.
Harpole got his first of three wins in just his third night out, at McLean County Speedway.
"I did not think my first win would come that quickly," he said. "The national rookie award was a pipe dream at the start of the season but as the year went on and things came into scope, I thought why not run for it?"
Starts-42
Wins-3
Additional Top Fives-17
HIS CREW: Father Terry, mother and stepfather Laura and Corey Wamsley, brother Landon, girlfriend Meaghan Hoff, Ryan Novak, Terry Faul and Russ John. 
HIS SPONSORS: Benz Ranch and Zimmerman Manufacturing, both of Steele; Elite Ag Solutions and Harpole Trucking, both of Dawson; Auto Express Towing of Bismarck; Big Tex Trailers/The Trailer Store of Mandan; and Falkenstein Farms of Wilton.