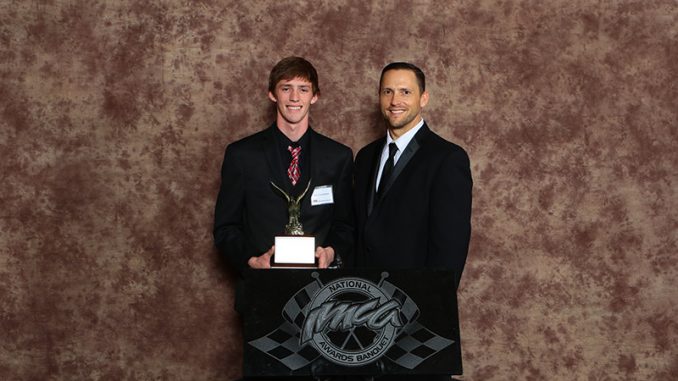 RIVERDALE, Calif. – When you have a passion for racing, like Grant Duinkerken, even family vacations revolve around being at the dirt track.
Loading up the trailer to race for two weeks in Texas this past summer, making many new friends at the track, including eventual national champion Marcus Thomas was just one high­light for Duinkerken, who had a national award of his own when the season was complete.
The Riverdale High School senior, an honor student, with a 4.0 GPA, became the first California driver to win national IMCA RaceSaver Sprint Car rookie of the year honors. He had 13 top five finishes on the season and was runner-up in Western RaceSaver Sprint Series standings.
A veteran of two seasons in both micro sprint and outlaw kart classes, the 17-year-old speedster bought a used 2013 KPC Chassis and motor to begin his career in the class with. He tied George Tristao Jr. in the series points race but Tristao had a feature win to get the tie-breaking edge.
"We wanted to get into the Sprint Car division. These cars are more affordable, especially in California," he said. "I like the division a lot. It's pretty similar to a micro sprint. Obviously it's faster but it really wasn't that much different. We had a good season."
Keller Auto Speedway at Kings Fairgrounds in Hanford is Duinkerken's home track and site to one of his two – Bakersfield Speedway was the other – second-place series finishes.
He made four starts and a bunch of new friends in Texas in July, picking up seat time on those tight quarter-mile ovals while gaining equally invaluable points.
Starts-21
Wins-0
Top Fives-13 
HIS CREW: Father Roger, brothers Beau and Jacob. Tim Williams and Mark Ekberg.  
HIS SPONSORS: Duinkerken Auto Body, Gagen Williams Racing and G & P Enterprises, all of Hanford; grandmother Goose Duinkerken; Loogman Farms of Laton; and Enrique's Horse Shoe­ing of Riverdale.