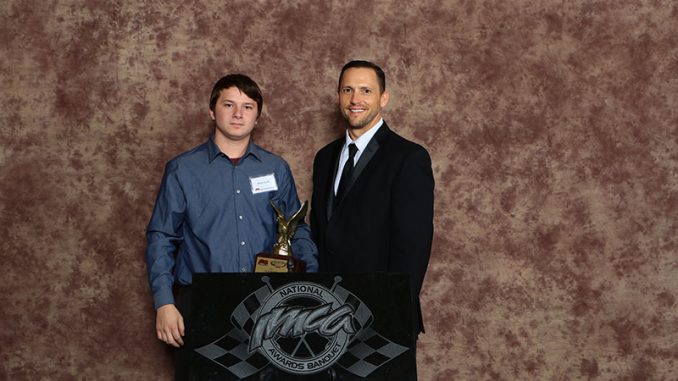 NASHUA, Iowa – A veteran of the IMCA Modifed and IMCA Sunoco Stock Car divisions has na­tional rookie of the year honors to show for his first IMCA Late Model campaign.
Bryce Carey of Nashua, Iowa, was a regular at Marshalltown Speedway, Independence Motor Speed­way and Benton County Speedway, while starting and ending his season with Deery Brothers Summer Series outings.
"I had raced three years in a Stock Car and three years in a Modified. We had been competitive and I decided it was time to go to a Late Model," he explained. "I think the Late Model is a premier divi­sion, one of the better classes you can be in in dirt track racing."
Carey bought a 2013 Wallybilt from Curt Martin, benefitting from the expertise of the former na­tional and Deery champion, the chassis builder and house driver Ben Seemann.
"When we struggled with setup, those guys helped us make the changes," he said. "The biggest part of the learning curve was having the spoiler and the wider tires. Late Models seem longer in front so being able to see out of the cockpit different."
The nephew of long-time driver LaVern Carey, he had a couple other experts in his corner.
"I work for Corey Dripps, who is one of the best Modified drivers around, and he has shared a lot of setup advice," Carey said. "And Andy Eckrich at Precision Performance has helped a lot with suspension. We've learned a lot from them, too."
He got some unexpected and unwelcome time off mid-season but still scored the rookie of the year award.
"We were running for rookie of the year but had to sit out almost a month and a half (July 2 to Aug. 11) because of motor problems," Carey said. "It was nice when we got those fixed. There were definitely some anxious moments as the rookie points got closer."
Starts-26
Wins-0
Top Fives-1 
HIS CREW: Father Ron and brothers Nick and Tyler. 
HIS SPONSORS: Wallybilt Race Cars of Waterloo; Scott Olson and Wide Open Race Engines of Blairsburg; and BSB Manufacturing of Wellington, Kan.