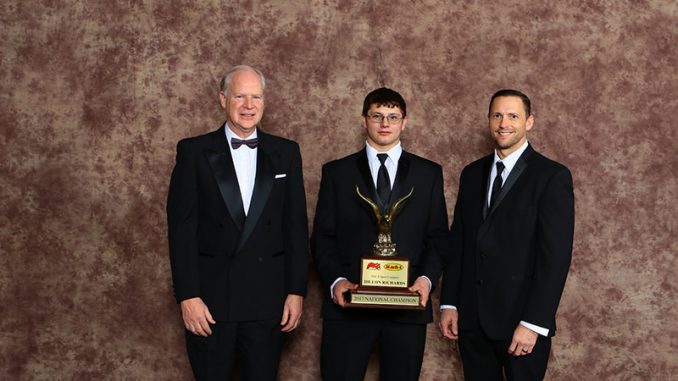 BEATRICE, Neb. – His success in spring specials convinced Dillon Richards he could be a contender for the national Mach-1 Sport Compact championship in 2017.
Armed with a willingness to travel and race in some of the biggest weekly fields the class had to offer, he had that title wrapped up before ending the season with another special event victory at his hometown Beatrice Speedway.
"After we won Spring Nationals at Beatrice and then both nights at RPM Speedway (the Sunflower Classic), we decided this was the year to go for it," said Richards, 18 and already a four-year-veteran of the division. "This was our first year traveling this much and there were a lot of late nights in the shop, but it was all worth it."
His 57 starts took Richards to 11 different tracks in Nebraska, Kansas, South Dakota and Iowa.
Eight of his 27 feature wins, and a third straight track title, came at Beatrice. Richards won another six times at Eagle Raceway and five times at Junction Motor Speedway.
"We changed our plans during the season to focus on tracks with the highest car counts, Beatrice on Fridays and Eagle on Saturdays. It was amazing how many cars those tracks had," he said. "We had some mechanical issues there for a while but we had a lot of things go our way, too. I won the second night at the Sunflower Classic with two lug nuts left on my right front tire. I couldn't have been any luckier."
He ran fourth at the IMCA Speedway Motors Super Nationals fueled by Casey's before ending the point season in a down-to-the-wire battle with Wisconsin's Mitch Meier. Richards won six straight features to clinch the national title by a single point, ending the year with second- and first-place showings at Beatrice's Septemberfest.
"It's awesome to win the national championship. I couldn't believe it and couldn't be any happier to have done it," he said. "We did everything we could to be consistent and I don't care if it was only by one point at the end. A win's a win."
Richards became the sixth different driver from Nebraska to win the Sport Compact title in the 11 seasons the division has crowned a national champion.
Also the third driver from Beatrice to win an IMCA national championship, joining Modified pilots Johnny Saathoff and Jordan Grabouski in the accomplishment, Richards will be a rookie in the IMCA Sunoco Hobby Stock division in 2018.
Starts-57                                                    Wins-27                                                      Additional Top Fives-18
HIS CREW: Stepfather Wade Jungbluth, Ed Jungbluth, Bud Corey and Trent Fugett.
HIS SPONSORS: Sutton Repair of Odell; father Phillip Richards, The Red Zone and RJ's Bar & Grill, all of DeWitt; Side Track Bar & Grill of Harbine; Goble Construction of Jansen; Fester's Bait & Tackle, Sabrina Jurgens and Xyngular, Inline Heating, Maxson's Barber & Beauty, Extreme Motorsports, Josh and Molly Voorhes and the kids, Deb and Rod Rehm, and Alec's Trenching, all of Beatrice; and Lily's Flower Shop and Jason Daniels, both of Fairbury.