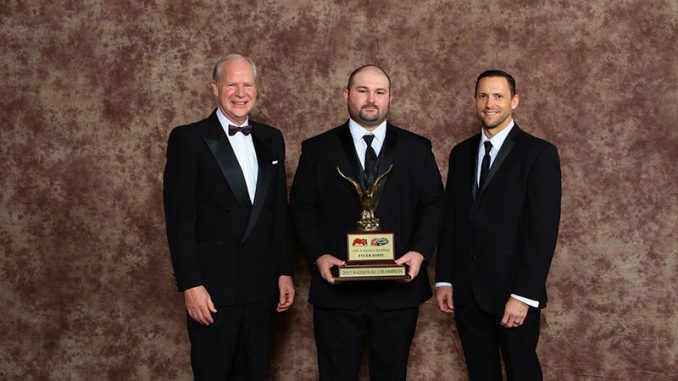 SHERRILL, Iowa – Advice from a driver who's been there and won that helped Tyler Soppe in his quest for the IMCA Karl Chevrolet Northern SportMod national championship.
Soppe parlayed 25 feature wins and track titles at Farley Speedway and Maquoketa Speedway into the 2017 national title.
"We knew it would be close because of bonus points but we had a pretty good idea we had the national championship wrapped up," said Soppe, from Sherrill, Iowa, and a first-time Allstar Performance Iowa State champion as well. "It was nice to be able to call people and tell them we'd won it after we got the official notice from IMCA."
Driving a 14-year-old car purchased for $1,500 as recently as 2015, Soppe was the national runner-up last year. He ascended to the top spot in the standings in mid-July this season and took the crown ahead of defending champion Tony Olson and two-time king Matt Looft.
"I had raced an outlaw super bomber, which is similar to an IMCA Stock Car, at Farley, Maquoketa and Dubuque. When those tracks announced they'd go IMCA, I raced both classes  before converting full-time to the Northern SportMod five years ago," Soppe said. "It was a class I could race anywhere and just as importantly, it fit my budget."
"Last year, Shannon Anderson suggested we pay more attention to our number of starts. I figured if anyone knew how to get it done (Anderson won his career seventh IMCA Hobby Stock national title this season) it was him," continued Soppe. "Getting second last year was awesome. To get it done this year was crazy."
Both 2016 and 2017 campaigns saw Soppe overcome mid-summer doldrums. He won just one of 11 outings after taking the lead in the national points race this year.
"Once we stopped having fun then it seemed like stupid things started to happen. Little things would break or we'd lose the driveshaft while leading," he said. "Sometimes you overdo things. We went back to having fun and we started winning again."
His 58 starts this year came at 11 different tracks and Soppe collected checkers at seven of those venues.
A six-time winner at Farley, Dubuque and Maquoketa, he also raced to more than his share of special event success at both Benton County Speedway and Independence Motor Speedway.
"There were a few races that really stood out for us this year. The Wednesday night fair race at Dubuque where we started last and won was one of them," Soppe said. "I've had pretty good luck at Benton County and we always plan to go there when Dubuque doesn't race. One of my favorite tracks is Marshalltown, although I have yet to win there, and I like Independence because the track is always so consistent."
Soppe now has a career total of 66 feature wins in the division.
Starts-58
Wins-25
Additional Top Fives-23
HIS CREW: Brother Dalton, Adam Bush and Tyler Zierden. 
HIS SPONSORS: Dubuque Mulch, Dubuque Fire Equipment, Fire Power Graphics, Nu Tech Seed, Cal-Co, Seegy's Race Products and Jeff, Lexi and Angie Valentine, all of Dubuque; Peosta Mini-Storage of Peosta; Durango Depot of Durango; Wagner Nursery of Asbury; Eichman's Bar & Grill of Sargeville; TDS Welding of Sherrill; Superior Cleaning Services of Independence; Corky's Racing Products of Waterloo; Ti-Lube of Mount Ayr; Broker Shane Heister Associated Real Estate Counselors of Preston; Bob Harris Custom Suspension of Ames; DriveDirtCars.com; Dynamic Drivelines of Des Moines; Out-Pace Racing Products of Freeport, Ill.; rhrswag.com; and Superior Steering Wheel of Mission, Texas.