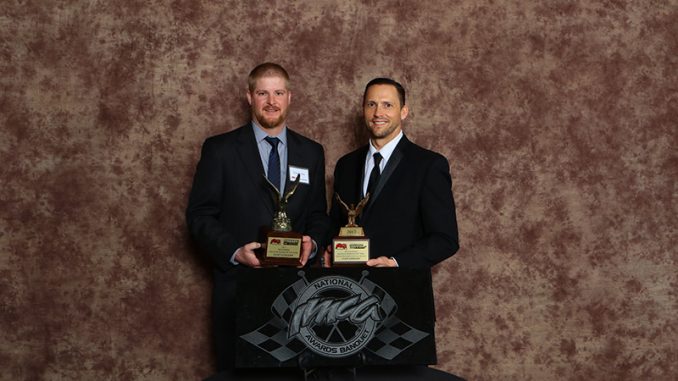 MINBURN, Iowa – Yes, said Clint Luellen, winning IMCA Modified national rookie and Side Biter Chassis North Central Region rookie of the year awards were goals for the 2017 season.
But no, he admitted, he didn't think much beyond that.
"We set out trying to have the best season we could and learn from the best. We wanted to win re­gional and national rookie of the year," he said. "We had a goal of six feature wins and one track champion­ship. We were astonished by how we exceeded ourselves."
From Minburn, Iowa, Luellen won nine features and finished third in regional points and ninth nation­ally. He was the only driver in the division to win three track championships, topping standings at Buena Vista Raceway, Stuart Speedway and Shelby County Speedway.
"I had raced a Karl Chevrolet Northern SportMod weekly at Stuart and Harlan. We added Alta on Wednes­days because that would give us a couple days to work on the car if we needed it," explained Luel­len, also the Allstar Performance Iowa State champion. "We met a lot of awesome people and every one of them helped us if we needed it."
The biggest difference between the SportMod and Modified was the level of competition throughout the two fields.
"When you show up and 85-90 percent of the field can win on any given night," Luellen said, "that's good competition."
His first win in a Modified came on June 7 at BVR.
"I'll never forget that day as long as I live. It was my aunt Tonya's birthday and she texted me to tell me she thought that would be the day," he said. "I was almost more shocked than excited after I won. The excitement didn't kick in until about a week later."
After getting a new Razor built, he'll switch gears to travel more and run more specials in 2018. Luel­len already plans to follow the Arnold Motor Supply Hawkeye Dirt Tour and Kupper Chevrolet Dakota Classic Tour next season.
Starts-56
Wins-9
Additional Top Fives-26 
HIS CREW: Father Tim, uncle Doug, wife Abbey, Don Richardson, Marcus Lorimor and Danny Kromrie. 
HIS SPONSORS: Luellen Farms, Mudders, Richardson Motorsports, Chad Spellman Farms and Ron Allen and Sons Trucking, all of Minburn; Lorimor Farms of Bartlett; Casey's General Store of Ankeny; Bob Harris Enterprises and Iowa Foam, both of Ames; Dynamic Drivelines of Des Moines; Motorsports Warehouse and CT Farms, both of Boone; Kuehl Brothers, Red Gate Customs and Grandma Wanitta and Mike, all of Wood­ward; Elite Electric and Barnyard Race Engines, both of Dallas Center; Iowa Donor Network of North Liberty; Day Farms of Urbandale; Zipp's Pizzeria of Adair; Building Brighter Dreams of Winterset; Schaefer Trucking of Adel; TiLube of Mount Ayr; DJ Services and Accujet Sewer and Drain Cleaning, both of Perry; Razor Chas­sis of Platte Center, Neb.; Friesen Performance of Sutton, Neb.; AFCO of Boonville, Ind.; Out-Pace Racing Products of Freeport, Ill.; and Wehrs Machine of Bangor, Wis.