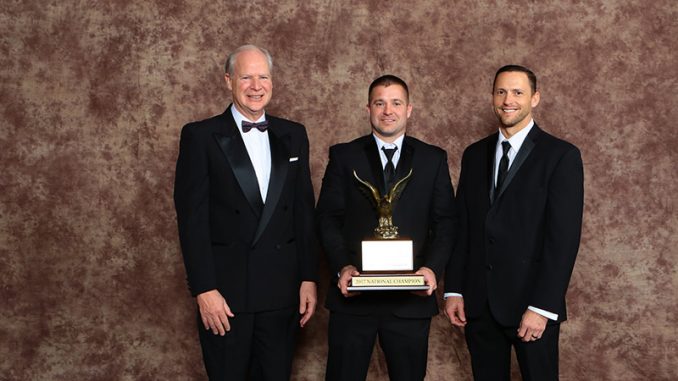 DES MOINES, Iowa – Two of the important numbers leading up to Shannon Anderson's record-extending seventh national championship were 300 and 35.
Anderson raced to his IMCA Sunoco Hobby Stock career 300th win in mid-June and won for the 35th time this season at the IMCA Speedway Motors Super Nationals fueled by Casey's.
"We had an excellent year. Honestly, it was unbelievable," Anderson said. "We'd had a hard time even getting to 30 wins the last three years but this year we started strong and kept it rolling."
Along with national and Super Nationals titles, the Des Moines, Iowa, driver motored to the Big Daddy Race Cars Northern Region and Marshalltown Speedway and Southern Iowa Speedway crowns.
He recorded a dozen wins at both Southern Iowa – site of his 300th, on June 14 – and Mar­shalltown, six at Kossuth County Speedway and three at Heartland Park Topeka after starting the sea­son in Texas with the opening night victory at Abilene Speedway's Ice Breaker.
"I hadn't run Osky since 2012 and only lost there one time this year," Anderson said. "It was kind of a last-minute decision to race there the first night and it turned out to be a real good decision."
Anderson had three streaks of five straight wins and distanced himself from the competition with seven consecutive checkers, and nine wins in his last 11 starts of the point season.
"Our winning percentage was better this year (74 percent to 73) than in 2009 when we won 43 times," he said. "We set a goal of winning our 300th feature this season and doing that in June took some of the pressure off racing for the national championship in August."
"Usually we have dry spell but that didn't happen this year," he added. "Even when we weren't winning we were still finishing consistently in the top five."
The all-time division leader with 25 career track titles, Anderson owns national championship hard­ware from 2008-2010, 2012, 2014 and 2016 and also reigned at Super Nationals in 2009, 2012 and 2014.
His latest Saturday night triumph at Boone Speedway ranks among the most memorable of Ander­son's many checkered flag runs: He started next to his father Jeff, who boasts IMCA na­tional and Super Nationals championships of his own, and finished fourth in the main event.
"There were nights at Oskaloosa and Marshalltown where I ran 1-2 with dad. It's neat to have nights like that," Anderson said. "It was pretty big to get qualified and start next to him at Super Nationals, too."
Anderson shares the IMCA modern era record of seven national championships in the same divi­sion with Mike Nichols, who added another Stock Car crown to his collection this season.
Starts-46
Wins-34
Additional Top Fives-8
HIS CREW: Mike Leffler, Donald Maas, Jamie Flugge-Smith, Andy Coffman, Rene Senecut, Kyle Schmauss, father Jeff, fiancée Ashley and kids Jeffrey, Ryker and Kensley. 
HIS SPONSORS: Parents Jeff and Carol Anderson, grandparents Gary and Judy Anderson and Grandma Ryan, all of Atlantic; Mike Leffler of Ankeny; Ed Sorensen and Donald and Amber Maas, all of Stuart; AERO Race Wheels of Estherville; Friesen Chevrolet of Sutton, Neb.; Bilstein Shocks of Poway, Calif.; Finishline Body and Paint of Grimes; Nutz Graphics of Oskaloosa; CIT of Newton; Immel Farms of Adair; Quick Performance of Ames; Upper Edge Ag of Adair; Pat Fagan and Fast Shafts, Alan's Seamless Gutters and Chuck & Larry's Transmission, all of Des Moines; Terminator Chassis, Kyle Brown and Harris Auto Racing and Bushore Racing Enterprises, all of Boone; VP Heartland Race Fuels, Manhattan, Kan.; and Sanborn Auto of Sanborn.