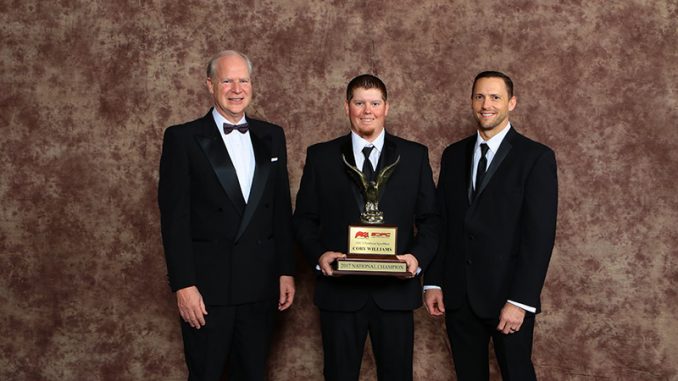 TAHOKA, Texas – A season that started out with the blues turned golden for Cory Williams.
The Tahoka, Texas, driver topped 17 features and ran in the top five in all but seven starts in winning the Scoggin-Dickey Parts Center Southern SportMod national championship.
"We started the season kind of running where and whenever we wanted. When we saw we were up there in the national points, it was kind of a shocker," admitted Williams. "After that we ran hard and sewed the national deal up."
Williams was a high school junior when he earned IMCA rookie of the year honors in the division in 2011. He was third in the national points race last year and brought 24 career wins into the 2017 campaign.
"There were a lot of mixed emotions after I got the call from IMCA telling me points were official and that I was the national champion," Williams said. "It's something we've been chasing for the past six years. We've worked very hard to win it and it was a relief to get that call."
The track champion at Cardinal Speedway and West Texas Raceway, Williams struggled at early-season specials before a mid-March weekend sweep at Eunice.
He'd turn things around to total nine wins at West Texas and seven at Cardinal, along with the checkers in his sole visit to Roadrunner Speedway.
The track title earned at Cardinal was Williams' fourth in five years.
"Consistency, not wins, gets you championships. We really focused on top three's," he said. "We got a 2016 IRP Race Car late last year and started out this season with motor problems. We broke twice after taking the checkers and limped to a top four finish another night, but once we got some things figured out it began to turn around for us."
"We spent a lot of hours in the shop every week," added Williams, largely self-funded. "It helps that we run with a lot of fast guys. They make us faster for sure."
Williams had been successful in a local pure stock class before making the move to the Southern SportMods. Having friends already racing in the sanctioned division helped convince him to make the switch.
"I had a bunch of friends running SportMods so I knew I would have a lot of help if I needed it," he said. "We've had a lot of fun in this class. I'm planning to run part-time next year and maybe go to a Modified in 2019."
Starts-42
Wins-17
Additional Top Fives-18
HIS CREW: Brandon Stone, parents Mark and Shronda, wife Whitlee and children Averee, Aubree and Brody. 
HIS SPONSORS: Williams Motorsports of Slaton; Poston Motorsports of Midland; IRP Race Cars of Longview; and Fletcher Custom Race Engines of Tuscola.