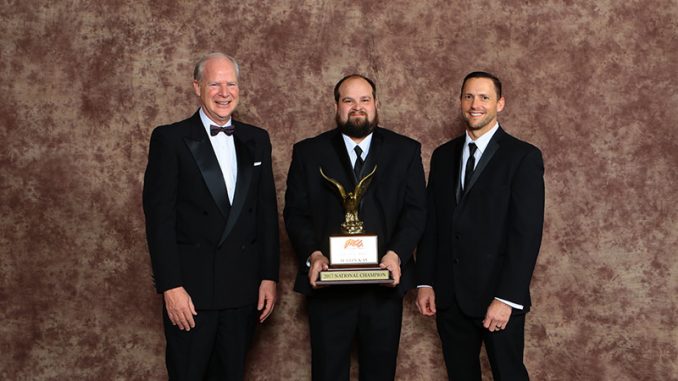 WHEATLAND, Iowa – A driver who has an appreciation for racing history and all the numbers that go into the sport made IMCA Late Model history this season.
Justin Kay became the first four-time national champion in the modern era of the division, winning 16 features and finishing in the top five in 30 of his 33 starts.
He was also one of just two IMCA drivers winning track championships in different divisions, topping both Late Model and Modified point standings at Farley Speedway.
"Winning the national championship is always in the back of your mind at the start of the year. Deery Brothers races counted toward national points this year and we had early success in the series," said Kay, from Wheatland, Iowa. "In May, we decided to keep racing at Farley and see how things played out."
A five-time winner on the Late Model tour circuit and in weekly shows at Farley, Kay also collected three checkers at Dubuque Speedway and single wins at Davenport Speedway and Maquoketa Speedway.
His sole out-of-state victory came on opening night of the One Night Stand at LaSalle, Ill., Speedway.
"The big thing for us continued to be maintenance on the car and that is a tribute to my crew," Kay said. "We just don't have the failures that prevent us from finishing races. I think the worst thing that happened this year was a broken oil pump and that was on a night when we still managed to finish fourth."
Kay wrote his own chapter in the IMCA history book on June 13 at West Liberty Raceway, when he became the first driver to win Deery Brothers Summer Series and Arnold Motor Supply Hawkeye Dirt Tour Modified events on the same night.
"It's always pretty neat to be able to do something that no one else has done," noted Kay, "and it's neat to have had the opportunity to do it. We weren't sure at the start of the year how often we would race the Modified."
His numbers in the open wheeled class show success similar to the Late Model: Eleven wins and 16 total top five finishes in 22 starts.
"There are a lot of things I like about racing both divisions, Kay said. "Usually I'm out there in the Modified before the Late Model so I get a feel for what the track is like, which gives me a bit of an advantage. More laps is always better."
Two of his biggest wins of the season came Sept 22 and 23. Kay earned $5,000 for both his Friday night's Modified Governor's Cup win and the Saturday win in the Liberty 100 Deery finale at West Liberty.
"The Liberty 100 always seems to be one of my season highlights. It's 100 laps and I always seem to do well in long races," he said. "We had to restart at the back (on the 26th lap) and were able to keep going and get the lead at the end."
Kay was fourth and scored a $10,750 payday at Batesville Motor Speedway's inaugural Race For Hope 74 the following weekend.
"That race was a blast. Promoter Mooney Starr and (race sponsor) Mark Martin are neat to be around," he said. "I love the track. They did so many little things to make it a neat weekend. I can't wait to go back next year."
Kay had also won national Late Model titles from 2013-2015 and shared the previous career mark with Darrel DeFrance, Ray Guss Jr. and Rob Toland.
He now has 81 career wins in the division, ninth on the divisional list since 1987 and tied for 13th with Dick Hutcherson on the all-time list.
Starts-33                                                    Wins-16                                                      Additional Top Fives-14
HIS CREW: Parents and car owners Ricky and Brenda Kay, Tyson Gheer, Tyler Madigan, Scott Fitzpatrick and cousin Jason Kay.
HIS SPONSORS: Kay Farms and Elevator, Wheatland Ag Center, JMR Gheer'd Up Race Cars, Petersen Insurance, Wheatland Auto Body, JR's Place Bar & Grill and HeineeJo's Bar & Grill, all of Wheatland; Crop Production Services and Dow Agri-Science/Abby Inglis, both of Wyoming; Hoker Trucking of Dixon; Grove Automotive of Dubuque; Doug Nigh's RPMS of Maquoketa; Allstar Performance of Watervliet, Mich.; Performance Bodies of Cedar Falls; JRi Shocks of Mooresville, N.C.; Sweet Manufacturing of Kalamazoo, Mich.; Wilwood of Camarillo, Calif.; Eibach Springs of Corona, Calif.; Wehrs Machine of Bangor, Wis.; Chase Race Decals of Ames; Real Wheels of Independence; Callies Crankshafts of Fostoria, Ohio; DMI/Bulldog Rear Ends of Lancaster, Pa.; Dynamic Drivelines and Karl Performance, both of Des Moines; and Mycogen Seeds, Cary Gruenwald of Lost Nation.