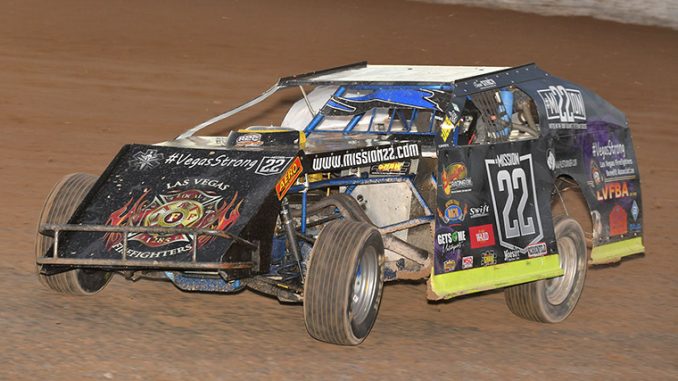 LAS VEGAS, Nev. – Sean Stacy raced for more than a tall trophy or any amount of money at the 20th annual Duel In The Desert.
The 17-year-old from Kearny, Ariz., was behind the wheel of the number Mi22ion IMCA Modified, which gets its number from Mission 22, an organization dedicated to providing treatment for and preventing suicide by military veterans.
Raising awareness about the 22 veterans who take their own lives each day because of Post-Traumatic Stress has been Stacy's goal throughout his rookie season.
"This is something that has affected many families," said Stacy's father and car owner Curtis. "We were having fun racing then began to see that this was one way we could make a difference."
Primarily sponsored by the Las Vegas Firefighters and Benefit Association, which counts many military veterans among its membership, the Mi22ion car raced six nights this season, at Arizona Speedway and at Central Arizona Speedway prior to the Duel In The Desert.
Stacy was ninth in the Young Guns event at the Duel. His final outing of the season will be at Central Arizona's Nov. 17-19 Desert Thunder Nationals.
"This was Sean's idea and it's gone really well. Hundreds of people have asked questions about the organization and we've done a lot of Facebook marketing for sponsors," Curtis Stacy said. "We have already had at least three veterans seek help as a result of the car."
The Arizona Modified Tour will kick off the 2018 season for the Stacy team. They'll be regulars at Arizona Speedway and Central Arizona and hope to be at Boone for the IMCA Speedway Motors Super Nationals fueled by Casey's in September.
Information about Mission 22 and programs it offers for veterans is available at the www.mission22.com website.