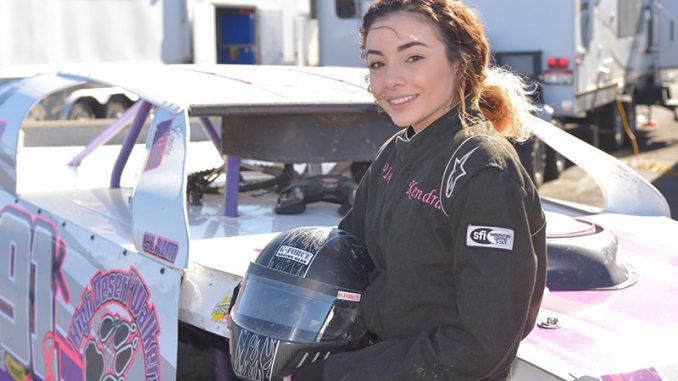 IDAHO FALLS, Idaho – Kendra Vollmer made good on her pre-season goal of winning an All-Star Performance State championship.
As a result, she'll add a plaque to the collection of awards in the home office that doubles as a trophy display room.
Vollmer topped Idaho State standings for the Karl Chevrolet Northern SportMod division. She also picked up her career first win in the class on Aug. 19, six days before her 18th birthday, at hometown Idaho Falls Raceway.
"Winning the state championship was really the goal for the year," Vollmer said. "Getting my first feature win was exciting and helped pay more bills but winning the state championship was the big thing."
Her father Kenny raced a Northern SportMod, earning state titles in 2011 and 2015, while uncle Jacob Vollmer was the Scoggin-Dickey Parts Center Southern SportMod king in Idaho in 2010.
"My dad liked this class a lot and was the one who got me started in it," said Vollmer, who ran a go-kart on dirt for six years before moving to the sanctioned class. "I like the way a SportMod handles. I raced a modified a couple times last year and there's definitely a difference."
While maintenance is similar, she notes that SportMods are less expensive to fix than a Modified. Vollmer, a freshman studying mechanical engineering at Idaho State University, is just the second female driver to win a Northern SportMod state crown and plans to stay in the division in the near future.
Her father, his racing friends and Kendra's boyfriend Kaleb Kenney are on her pit crew.
Sponsors are Vollmer Well Drilling and Super T Transport, both of Idaho Falls; Rock Bottom Sports Bar and Falls Grill & Chill, both of American Falls; High Desert Walkers of Aberdeen; and Moz Studios of Pocatello.