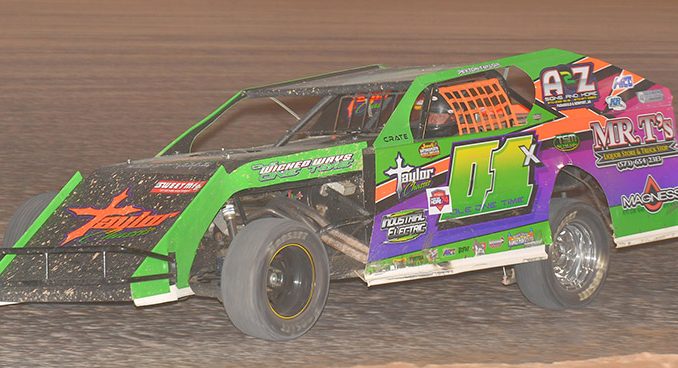 LAS VEGAS, Nev. (Nov. 10) – Dominic Ursetta saw his racing fortunes do a 180 while Peyton Taylor came up aces himself Friday night at the Duel In the Desert.
Ursetta won the first IMCA Modified qualifying feature at the Las Vegas Motor Speedway Dirt Track, ahead of Nick DeCarlo, five-time and defending winner Jeremy Payne and Johnny Scott. Taylor topped the second qualifier, with 2009 race winner Johnny Saathoff, Tim Ward and Benji LaCrosse in tow.
Both races paid $777 to win and sent the top four finishers to Saturday's $7,777 to win main event.
The first car out in his opening night qualifier, Ursetta drew the pole for Friday's opener and quickly built a growing lead over DeCarlo and Paul Stone.
Ursetta found himself running with lapped cars before the halfway point. Payne worked his way up to third as the traffic got thicker.
Three lapped cars separated Ursetta and DeCarlo at the finish. Scott worked his way to the final transfer spot after starting 13th.
Taylor also started from inside row one and had Saathoff, Ward and LaCrosse running in that order behind him when the 12th lap was scored.
He stretched his advantage in traffic and took the checkers better than seven seconds ahead of Saathoff.
Fourth starting Robert Elliott took over up front on the second lap and led the last 19 times around the half-mile oval in winning the Karl Chevrolet Northern SportMod qualifier and $500.
Nick Spainhoward was just over a second behind in the runner-up spot. The rest of the top six moving on to Saturday's $1,777 to win feature were Shawn Harker, Shane DeVolder, Gary Dutton and Cory Hemphill.
Modified drivers from 18 states and Northern SportMod drivers from seven states vied in their respective qualifying features Friday at LVMS.
Qualifying concludes Saturday. Young Guns and Legends races precede the 25-lap main event for Northern SportMods and 40-lap main event for Modifieds.
The Duel In The Desert is broadcast by IMCA.TV.
Modified Results 
1st qualifying feature – 1. Dominic Ursetta, Arvada, Colo.; 2. Nick DeCarlo, Martinez, Calif.; 3. Jeremy Payne, Buckeye, Ariz.; 4. Johnny Scott, Cameron, Mo.; 5. Paul Stone, Winton, Calif.; 6. Jordan Grabouski, Beatrice, Neb.; 7. Darin Duffy, Urbana, Iowa; 8. Rodney Sanders, Worthington, Minn.; 9. Ethan Dotson, Bakersfield, Calif.; 10. Scott Drake, Diamond, Mo.; 11. Collen Winebarger, Corbett, Ore.; 12. R.C. Whitwell, Tucson, Ariz.; 13. Josh Most, Red Oak, Iowa; 14. Chase Allen, Midlothian, Texas; 15. Chaz Baca, Mesa, Ariz.; 16. Christy Barnett, El Paso, Texas; 17. Cory Sample, Winnemucca; 18. Casey Skyberg, Rapid City, S.D.; 19. Jeremy Thornton, Casa Grande, Ariz.; 20. Chris Abelson, Sioux City, Iowa; 21. Casey Delp, Rock Springs, Wyo.; 22. Butch Reid Jr., Carlsbad, N.M.; 23. Randy Brown, Chowchilla, Calif.; 24. Mike Petersilie, Hoisington, Kan.
2nd qualifying feature – 1. Peyton Taylor, Batesville, Ark.; 2. Johnny Saathoff, Beatrice, Neb.; 3. Tim Ward, Chandler, Ariz.; 4. Benji LaCrosse, Green Bay, Wis.; 5. Bob Moore, Sioux City, Iowa; 6. Joey Moriarty, Phoenix, Ariz.; 7. Bobby Hogge IV, Salinas, Calif.; 8. Brad Pounds, Bakersfield, Calif.; 9. Dylan Sherfick, WaKeeney, Kan.; 10. Jared Hoefelman, Humphrey, Neb.; 11. Jeff Taylor, Cave City, Ark.; 12. Travis Dickson, Gallipolis, Ohio; 13. Brian Schultz, Casa Grande, Ariz.; 14. Troy Foulger, Martinez, Calif.; 15. Nick Link, Rolla, Kan.; 16. Jason Wolla, Ray, N.D.; 17. John Hansen, Brush, Colo.; 18. Lucas Schott, Chatfield, Minn.; 19. Kyle Heckman, Bakersfield, Calif.; 20. Roy Spielman, Mills, Wyo.; 21. Mike Villanueva, Atwater, Calif.; 22. Bill Brack, Mead, Colo.; 23. Joe Duvall, Claremore, Okla.; 24. Alex Stanford, Chowchilla, Calif.
Northern SportMods 
Qualifying feature – 1. Robert Elliott, Clinton, Okla.; 2. Nick Spainhoward, Bakersfield, Calif.; 3. Shawn Harker, Nebraska City, Neb.; 4. Shane DeVolder, Pacifica, Calif.; 5. Gary Dutton, Bakersfield, Calif.; 6. Cory Hemphill, Yuma, Ariz.; 7. Danny Concelman, Colo. Springs, Colo.; 8. Jason Nation, Bakersfield, Calif.; 9. Luke Krogh, Dickinson, N.D.; 10. Lee Jensen, Bakersfield, Calif.; 11. Kyle Wood, Bakersfield, Calif.; 12. Les Friend, Galt, Calif.; 13. Brett Berry, La Junta, Colo.; 14. Austin Manzella, Bakersfield, Calif.; 15. Mike Dean, Santa Maria, Calif.; 16. Monty Nordyke, Holly, Colo.; 17. Jorddon Braaten, Central Point, Ore.; 18. Ryan Bledsaw, Springville, Calif.; 19. Scott Saunders, Colo. Springs, Colo.; 20. Zack Forster, Bakersfield, Calif.; 21. Chase Alves, Chandler, Ariz.; 22. Fred Ryland, Brentwood, Calif.; 23. Mark Garner, Antioch, Calif.; 24. Austin Kiefer, Pahrump.