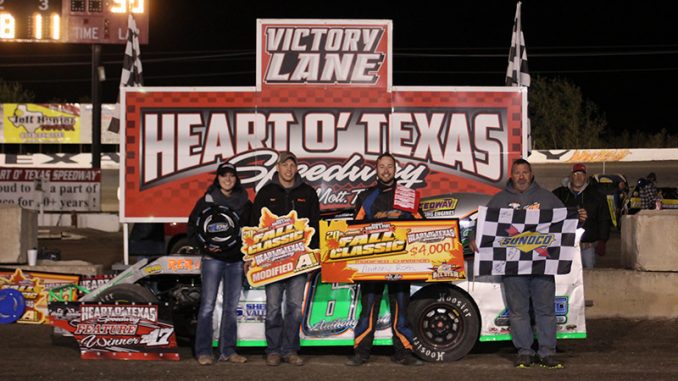 WACO, Texas (Oct. 28) – Anthony Roth got his first look at Heart O' Texas Speedway when he pulled in for the Thursday practice session that preceded the weekend Fall Classic special.
He had a check for $4,000 in his pocket and a season-ending IMCA Modified feature win when he drove out of the pit area at Waco two nights later.
"We were looking to end the season on a high note," said the Columbus driver, who had been KO'd by a late flat while running second in his final outing in his home state of Nebraska. "We were confident going down there that the car would be good."
Forced to qualify through his last-chance race on Saturday after getting together with another car in the opening night feature, Roth started 11th and had the lead nine circuits into the 30-lapper.
"Mainly I used the bottom. I got everybody in (turns) one and two and when I got the lead I went to the top," said Roth, already on the ballot for the Fast Shafts All-Star Invitational ballot. "I got into lapped traffic but was able to find my way around them."
Arizona speedster Brian Schultz, runner-up to Dean Abbey in a photo-finish in the Friday qualifier, was second. Completing the top five in the 20th anniversary event were Justin Radcliff, Kevin Green and Chris Bragg.
Roth said Heart O' Texas was similar to Raceway Park, a South Dakota venue he races at once or twice a year. He's been bad fast in nine starts in a newly built Razor, winning on season champion­ship night at Beatrice Speedway and sweeping the Iron Cup Weekend at Park Jefferson be­fore the Texas trip.
"Four thousand dollars is our career best payday," said Roth, who had a previous top of $1,555 at Park Jeff's Salute to Jimmy Cole special this spring. "We're already looking forward to starting next year with the Arizona Tour. I think it's going to be a good season."
$1,500 feature winners were Dillon Smith in the IMCA Sunoco Stock Cars and Sid Kiphen in the Scoggin-Dickey Parts Center Southern SportMods. Kevin Smith earned $650 for his IMCA Sunoco Hobby Stock victory.
Also the winner of the Bryan Mize Memorial at HO'T in September, Dillon Smith won the Fall Clas­sic for the first time despite getting together with lapped car late in the Stock Car feature.
"There as no major damage to the car but I was thinking I'd get a flat tire. I was lucky I didn't," said Smith, who had a lead of more than a straightaway when the incident occurred. "I've raced the Fall Classic for a lot of years and this is my home track. It's nice to be able to win this race."
He eked back ahead to win by about five car lengths over Andy Roller, 10th starting Dan Day, Ron­nie Warren and Anthony Otken.
Kiphen broke the rear end on his ride during hot laps on Friday – his 55th birthday – borrowed another from T.J. Green and got help from Robert Scrivner putting it on.
He passed Scrivner to win their heat, then ran second to him in the qualifier. Scrivner led the first 18 laps in the main event before Kiphen got by for the win.
"I started to pressure him on the higher line before we ran side-by-side," Kiphen said. "Luckily, the old car (a seven-year-old Express) did perfect and success.
Kiphen had promised his mother he'd win the race for her when she'd called to wish him a happy birthday. Tim Clonch, Scrivner, Green and Chris Cogburn completed the top five behind him
"I just ran the car easy and got what I could get," said Kiphen, who took Scrivner out for Mexican the Tuesday after the Fall Classic to thank him for his help. "That was probably one of my best races."
Kevin Smith scored the 50th win of his career and his first-ever at the Fall Classic.
"I've been racing 17 years, most of them in a pure stock, some in a street stock, one in a Modified and I finally got at win at the Fall Classic in a Hobby Stock," he said following his final night of the season in the Eddie Thompson-owned ride. "It was great. I've been through years where just about everything that could happen happened to me at the Fall Classic. If you can think of it, it's probably happened to me."
Smith got out to a big lead early on, dealt with lapped traffic and then won in front of Cory Stone, Hayden Wade, Joe Williams and Cody Stone following a restart with two laps to go.
"I grew up here watching my uncle race. It's great to finally win this race," Smith said. "It's amaz­ing, like winning a track championship. I can finally put that on my list of accomplishments."
Feature Results
Modifieds – 1. Anthony Roth; 2. Brian Schultz; 3. Justin Radcliff; 4. Kevin Green; 5. Chris Bragg; 6. Eric Tomlinson; 7. Josh McGaha; 8. Raymond McSpadden; 9. Jason Batt; 10. Dean Abbey; 11. Rob­ert McKinney; 12. Chris Morris; 13. Darryl Campbell; 14. Chad Guest; 15. Erik Thorne; 16. Erik Miles; 17. Ken Old; 18. Eric Hughes; 19. Matt Guillaume; 20. Tommy Phillips; 21. David Goode Sr.; 22. Chase Allen; 23. Paul White; 24. Jake Henderson. 
Stock Cars – 1. Dillon Smith; 2. Andy Roller; 3. Dan Day; 4. Ronnie Warren; 5. Anthony Otken; 6. Joe O'Bryan; 7. Mark Adams; 8. Damon Hammond; 9. Billy Briley; 10. Billy Wade; 11. Robin Batt; 12. Wade White; 13. Travis Norman; 14. Charles Brewer; 15. Don Chamblee; 16. Buck Owens; 17. Benji Kirkpatrick; 18. Kenny Merritt; 19. Justin Wierenga; 20. Jake Copeland; 21. Allen Wil­liams; 22. Tyler Smith. 
Southern SportMods – 1. Sid Kiphen; 2. Tim Clonch; 3. Robert Scrivner; 4. T.J. Green; 5. Chris Cogburn; 6. Jeff Shepperd; 7. Ronnie Bell Jr.; 8. Jon White; 9. Taylor Florio; 10. Chris Florio; 11. John Freeman; 12. Kevin Manning; 13. Gene Burnett; 14. Mitchell Wachsman; 15. Zac Sydney; 16. Chris Birmingham; 17. Rusty Head; 18. Don Painter; 19. Mark Shipman; 20. Casey Brunson; 21. Michael Maraschick; 22. Ranger Shipman. 
Hobby Stocks – 1. Kevin Smith; 2. Cory Stone; 3. Hayden Wade; 4. Joe Williams; 5. Cody Stone; 6. Jordan Kornegay; 7. Damian Snyder; 8. Jeremy Hendrix; 9. Stacey Robinette; 10. Eddie Thompson; 11. Shannon Dulock.