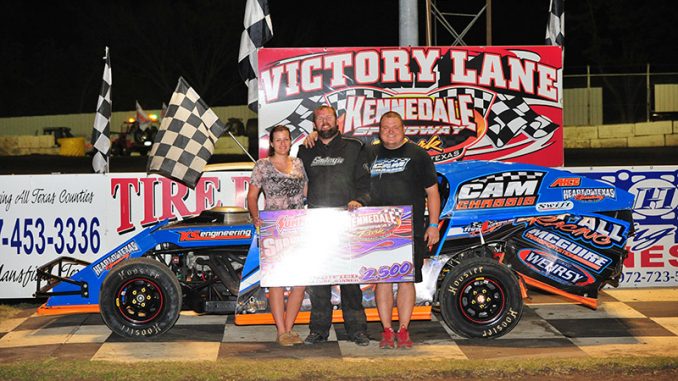 KENNEDALE, Texas (Oct. 7) – A wet weekend forecast in Kansas convinced Chase Allen to race closer to home.
That decision proved to be good for $2,500.
Despite battling brake issues much of the way, Allen led all 25 laps of the Saturday main event for IMCA Modifieds at Kennedale Speedway Park's Summit Racing Equipment Showdow
The Fast Shafts All-Star Invitational ballot qualifying victory came ahead of Chris Elliott, Chad Melton, Josh McGaha and Chris Bragg.
"I was just the glad the car was turning so good," said Allen, who built up a sizable advantage before the last caution waved with four laps to go. "We changed our plans to race at Fall Nationals (at RPM Speedway in Hays, Kan.) because it's hard to drive past a track that's 15 minutes from your home. I didn't get to race here as often as I would have liked this year but Kennedale is a track I know pretty well."
Rain the previous weekend had forced rescheduling of the fall special at Kennedale.
Fifteen hundred dollar feature winners were Marcus Thomas in the IMCA RaceSaver Sprint Cars, Jay Bransom in the IMCA Sunoco Stock Cars and J.C. Howell in the Scoggin-Dickey Parts Center Southern SportMods.
Thomas, the national champion and a seven-time winner at Kennedale during the IMCA Speedway Motors Weekly Racing point season, led all 20 circuits in the Sprint Car feature.
Thomas stuck to the higher line until after midway, then moved to the bottom following what proved to be the final caution, with seven laps to go.
2015 national champ Chad Wilson finished three car lengths behind. Kyle Jones, Anton Hernandez and Coly Wilson made up the rest of a very fast top five.
Bransom opted for the inside row two spot for an early restart, caught Dan Day for the lead a couple laps later and stayed in front to the finish of a Stock Car feature that ran green the rest of the way.
Working lapped traffic to perfection, Bransom took the checkers ahead of Day and Benji Kirkpatrick. Rounding out the top five were Dillon Smith and Damon Hammond.
Howell prevailed in a three-wide battle, getting the lead and the win on the last lap of the Southern SportMod main. Those checkers came in a self-built Smiley's Racing Chassis ride that had also put Howell in victory lane at Kennedale two weeks ago.
"I've been busy with business and that was just the third time we raced this year," he said. "We got a break in the job and got back into dirt trackin.'"
Jason Nabors, Jake Upchurch, John Freeman and Michael Martin were next across the stripe.
Feature Results
Modifieds – 1. Chase Allen; 2. Chris Elliott; 3. Chad Melton; 4. Josh McGaha; 5. Chris Bragg; 6. P.J. Egbert; 7. Marvin Skinner; 8. Jay Bransom; 9. Dillon Pike; 10. Matt Guillaume; 11. Danny Rodgers; 12. William Gould; 13. Jake Henderson; 14. Justin McCoy; 15. Tom Earl Jr.; 16. Cody Shoemaker; 17. Tommy Williams Jr.; 18. Austin Gooding; 19. Pat McGuire; 20. Chris Morris; 21. Dane Burington; 22. Nicholas Littlejohn; 23. Matt Martin; 24. Jason Hunter.
Sprint Cars – 1. Marcus Thomas; 2. Chad Wilson; 3. Kyle Jones; 4. Anton Hernandez; 5. Colby Wilson; 6. Lucas Scherb; 7. Logan Scherb; 8. Claud Estes; 9. Jason Howell; 10. J.D. Fry; 11. Jimmy Gardner; 12. D.J. Estes Jr.; 13. George White; 14. Tyler Russell; 15. Corby Scherb; 16. Lindell Jenkins Jr.; 17. John Ricketts; 18. Jeb Sessums; 19. Weston Gorham; 20. Britney Bryant.
Stock Cars – 1. Jay Bransom; 2. Dan Day; 3. Benji Kirkpatrick; 4. Dillon Smith; 5. Damon Hammond; 6. Tyler Muirhead; 7. Craig Moss; 8. Jason Schoenberger; 9. Aaron Benedict; 10. Caleb Crenshaw; 11. Steven Orebaugh; 12. Randall Kahanek; 13. Jerrett Bransom; 14. Colton Obregon; 15. Travis Norman; 16. Blake Clark; 17. Roman Garcia; 18. Jason Riddle; 19. Justin Bruce; 20. Brad Ekstrom; 21. Don Chamblee; 22. Kirk Martin; 23. Ronnie Ellis; 24. Dennis Bissonette.
Southern SportMods – 1. J.C. Howell; 2. Jason Nabors; 3. Jake Upchurch; 4. John Freeman; 5. Michael Martin; 6. Kyle Wisdom; 7. Tyler Muirhead; 8. Karl Rupp; 9. Bobby Ortega; 10. James Skinner; 11. Kevin Manning; 12. Kaden Honeycutt; 13. Casey Brunson; 14. Devin Burgess; 15. Will Fritchen; 16. John Rabozzi; 17. Danny Cavanagh; 18. Bobby Parker; 19. Gary Fox; 20. Justin Shaw; 21. Edmund Goff; 22. Joseph Doremus; 23. Kirk Williams.