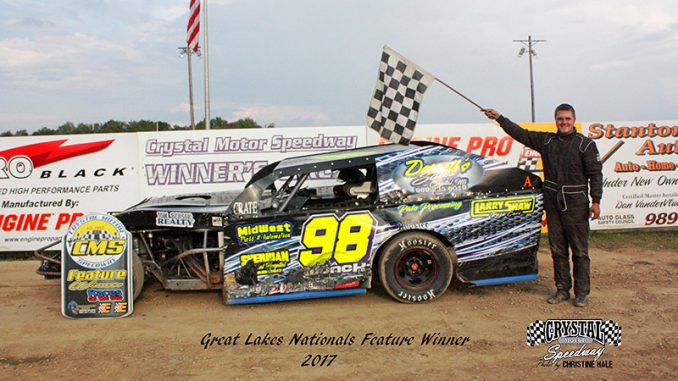 CRYSTAL, Mich. (Sept. 17) – That rain early in Sunday's Great Lakes Nationals main event at Crystal Motor Speedway didn't bother Austin Wonch a bit.
Wonch was running third when the precipitation started, and ran the 10 or so track packing laps that followed confident he'd be able to work his way to the front of the IMCA Modified field.
After doing just that, Wonch led the last 45 of 50 laps and took the $3,000 checkers ahead of John McClure.
A.J. Ward, Mitchell Hunt and Myron DeYoung rounded out the top five in the typically stellar Great Lakes Nationals field. The heavy hitters of the division in Michigan made it a point to congratulate Wonch in victory lane and post-race tech.
"You know you did something right when it's them congratulating you," said the 19-year-old speedster from Stanton. "Once we got the rain, I knew I'd be able to use the bottom. When I didn't see anybody's nose, I realized I was holding my own."
"I didn't know what to think at first after the race was over," Wonch admitted. "It was crazy."
He had gotten around Hunt for second and Gavin Hunyady for the lead, then stretched out his advantage during a couple long green flag runs.
The final caution waved with nine laps left. Wonch pulled ahead by three to four car lengths, a margin he was able to maintain to the finish line.
Wonch had 16 top five finishes in 35 starts coming into the weekend but didn't do too much celebrating following his third win of the season.
"We got a new car (a 2017 Shaw) this year and put more time and focus into our racing," he said. "Things were pretty calm Sunday night. I got some congratulations and we packed up and went home. I had to be at work Monday morning."
Feature results – 1. Austin Wonch; 2. John McClure; 3. A.J. Ward; 4. Mitchell Hunt; 5. Myron DeYoung; 6. Gary VanderMark; 7. Kody Johnson; 8. Shannon Fisk; 9. Jerry Hunt; 10. Brenten DeYoung; 11. Chance Allen; 12. Brady Hollenbeck; 13. Ken Zeigler; 14. Glen Moon; 15. Chad May; 16. Matt Szecsodi; 17. Nick Stormzand; 18. Chad Wernette; 19. John Taylor; 20. Gavin Hunyady; 21. Rusty Zeigler; 22. Johnny DeYoung Jr.; 23. Scott Glidden; 24. Joe Fowler.