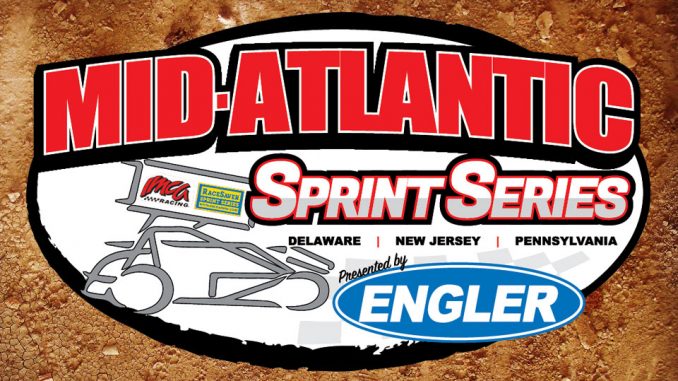 By Erika Palmai Wagner
BECHTELSVILLE, Pa. – Rick Stief inches closer to his first career Mid-Atlantic Sprint Series champion­ship with two races remaining on the 2017 schedule.
Stief, a two-time feature winner this season, is the current point leader as MASS heads to Grandview Speedway this Friday, Sept. 15. The IMCA RaceSaver series will join the Sportsman Modifieds the night before the annual Freedom 76'er.
"My goal for the next two races is to not think about the championship and just focus on the races," Stief said. "I never liked point racing and I just happened to be lucky enough to miss a week that rained out, so I am proud and excited to be in this position, but I'm not fond of the pres­sure that comes with it.  I just want to race, and hopefully our luck at Grandview will change enough for us to get our first win at that track. We've been close, but not close enough."
Tommy Carberry continues to trail Stief by just two points while Eddie Wagner is just three points out of first. Tim Tanner Jr. and Jeff Geiges, who each own their own a championship title with the former Tri-State RaceSaver Sprint Series, also are in contention for the points championship, with just seven and 14 points, respectively, separating them from Stief.
Carberry, who is a strong force going into this weekend's event at Grandview, has never had the opportunity to race for a championship, but by putting himself in the position to make it possible this season, he said it would mean a lot to him to come out on top at the end of the year.
"I'm always confident when we go to Grandview because that track just fits my driving style," Car­berry said. "Each time we visit, we have consistently been a top three finishing car, with the excep­tion of our last race there when I parked it on the backstretch attempting to go for the lead on the last lap. Friday, I'm hoping that this time, we can park it on the front stretch."
After this weekend, the series will head back to New Jersey's Bridgeport Speedway next Friday, Sept. 22, where at the night's end a champion will be crowned.
Racing on Friday at Grandview Speedway starts at 7 p.m. and admission is $12 for adults, $5 for children 6 through 11 and free for six and under.