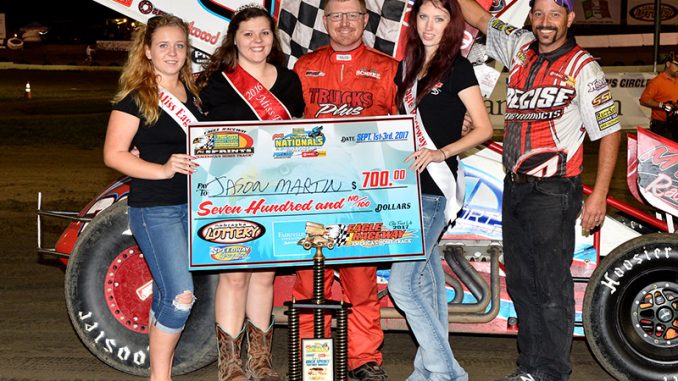 By Greg Soukup
EAGLE, Neb. (Sept. 1) – Jason Martin continued his Eagle Raceway tear on opening night of the IMCA RaceSaver Sprint Nationals.
The winner of the last two regular season features at Eagle, Martin topped the Friday qualifying feature, earning $700 and the pole position in Sunday's $2,500 to win main event.
"I think our chances Sunday are as good as any. You've got to lose it a few times in order to win it, I guess, so I think we're as good as we can be right now," said Martin, who ran third in last year's Sprint Nationals main after winning the Jake Ita Memorial feature.
Chasing Martin across the stripe and lining up behind him on the inside row Sunday were 2015 champion John Carney II, two-time and defending champion Jack Dover, Toby Chapman, Matt Richards, Mike Bos­ton, Tyler Drueke, Stu Snyder and Kevin Ramey qualified for the big dance.
Martin was the leader after a lap one restart and stayed in front as challengers shuffled behind him. The final caution of the contest waved with eight laps to go; Dover and Carney swapped second when Dover snagged the spot with five to go, only to see Carney retake the position on the next lap. The final change in the top four came on the last circuit as Chapman got past Richards for fourth.
One hundred and eleven Sprint teams saw action in Friday's rain-delayed show. Qualifying for Saturday's $1,000 Jake Ita Memorial event were Drueke, Dover, Doug Lovegrove, Jason Howell, Ramey, Luke Cranston, Ken Duke Jr., John Ricketts, Martin, Andy Shouse, Claud Estes, Kaleb Johnston, Carney, Chap­man, Jake Bubak, Dusty Ballenger, Justin Fifield, Ethan Barrow, Adam Gullion and Clint Benson.
Dillon Richards was the Mach-1 Sport Compact feature winner.
Saturday's Sprint Nationals program kicks off with 5 p.m. hot laps and racing at 6 p.m. Sprints will be try­ing to lock into one of the nine spots on the outside of Sunday's main event grid. Also on the card will be Karl Chevrolet Northern SportMods.
There will be a pit party following the last race with entertainment by V-Twin Band. Eagle Raceway's Melon Bar will be open until at least 1 a.m. and replays of the evening's program will be shown on at the tailgate trailer.
Front gates open at 4:30. Adult grandstand admission is $15, youth ages 6-12 are $5 and children five and under are free. Pits open at 3 p.m. with pit passes priced at $25.
Sprint Nationals is broadcast by IMCATV.
Feature Results
Sprint Cars – 1. Jason Martin, Lincoln; 2. John Carney II, Lubbock, Texas; 3. Jack Dover, Springfield; 4. Toby Chapman, Panama; 5. Matt Richards, Lincoln; 6. Mike Boston, Lincoln; 7. Tyler Drueke, Eagle; 8. Stu Snyder, Waverly; 9. Kevin Ramey, Fort Worth, Texas; 10. Junior Jenkins, Greenville, Texas; 11. Dusty Ballenger, Harrisburg, S.D.; 12. Chase Weiler, Lincoln; 13. Jeff Day Jr., Greenville, Texas; 14. Koby Wal­ters, Liberal, Kan.; 15. Chase Parson, Abilene, Texas; 16. Blake Dacus, Fletcher, Okla.; 17. Jason Danley, Lincoln; 18. Ken Duke Jr., Selinsgrove, Pa.; 19. Ryan Hall, Midlothian, Texas; 20. Shon Pointer, Grand Island.
Sport Compacts – 1. Dillon Richards, Beatrice; 2. Bryan Vannausdle, Nebraska City; 3. Shawn Hein, Beatrice; 4. Tim Horsham, Raymond; 5. Steven Rol, Hastings; 6. Jared Jackson, Crete; 7. R.J. Maas, Wil­ber; 8. Steffen Oaks, Lincoln; 9. Justin Callender, Lincoln; 10. Tommy Etherton, Lincoln; 11. Josh Young, Beatrice; 12. Kyle Owen, Nebraska City; 13. Tyler Masek, Raymond; 14. Kyle Grobeck, Omaha; 15.Drew Grobeck, Omaha; 16. Kasha Hall, Lincoln; 17. Joe Baker; 18. Danny Morris, Bellevue; 19. Brian Haller, Lincoln; 20. Lance Rains, Omaha.