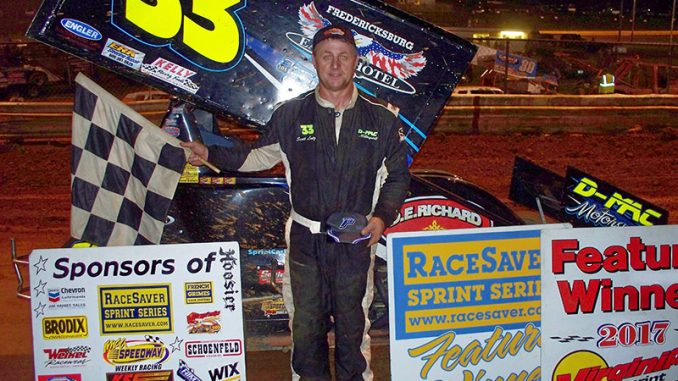 By Jim Haines
NATURAL BRIDGE, Va. (Aug. 19) – The Natural Bridge has been a popular destination for tour­ists but for racers and fans the track up the street is where to be.
Scott Lutz became the latest visitor to victory lane at that popular destination when the Virginia Sprint Series visited Saturday night.
With the laps winding down, Lawson went outside Mike Leraas for the lead and the front pair raced that way for two laps. That battle ended when Leraas and Lawson caught up with a lapped car and the three wouldn't fit three-wide.
Lawson slid over the hill to bring out the yellow and Lawson was sent to the rear. Lutz was strong on the bottom and got under Leraas with two laps to go, then held off Leraas for the IMCA Rac­eSaver Sprint Car feature win.
Anthony Linkenhoker was fourth and fifth went to Bill Rice.
Feature results – 1. Scott Lutz; 2. Mike Leraas; 3. Tony Harris; 4. Anthony Linkenhoker; 5. Bill Rice; 6. Jeff Taylor; 7. Jerald Harris; 8. Daren Bolac; 9. Brian Lawson; 10. Chris Ware; 11. Charlie Ware; 12. Neil Sandridge; 13. Tom Humphries.