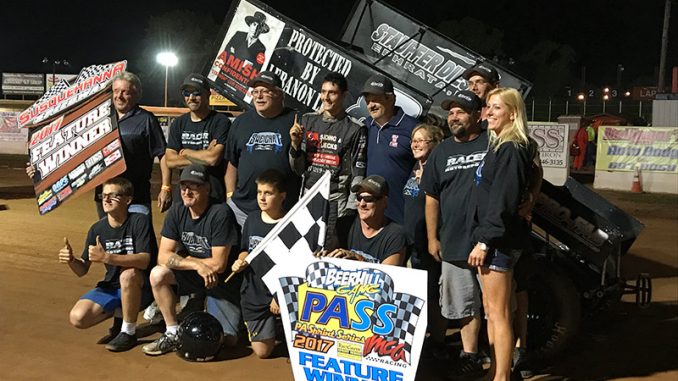 By Brad Vores
YORK HAVEN, Pa. (Aug. 20) – Nick Sweigart wired the field to post the win in the Sunday 20-lap Pennsylvania Sprint Series feature at Susquehanna Speedway.
Sweigart's first-ever win for car owner Randy Kaylor made him the 15th different winner in 29 IMCA RaceSaver Sprint Car series races this season.
Starting on the pole, Sweigart dominated while two late race cautions kept things interesting at the front. Kyle Smith, Darren Miller, Austin Bishop and Kassidy Kreitz rounded out the top five.
Thirty-seven RaceSaver entries were entered.
Feature results – 1. Nick Sweigart; 2. Kyle Smith; 3. Darren Miller; 4. Austin Bishop; 5. Kassidy Kreitz; 6. Dave Brown; 7. Eddie Wagner; 8. Zach Newlin; 9. Ken Duke Jr.; 10. John Scarborough; 11. Scott Ellerman; 12. Brendan Poff; 13. Kyle Ganoe; 14. Jay Krout; 15. John Walp; 16. Greg Dobrosky; 17. Ian Detweiler; 18. Jaremi Handon; 19. George Riden; 20. Samantha Lieberman; 21. Drew Ritchy; 22. Joe Kay; 23. Dylan Shatzer; 24. Dave Grube.