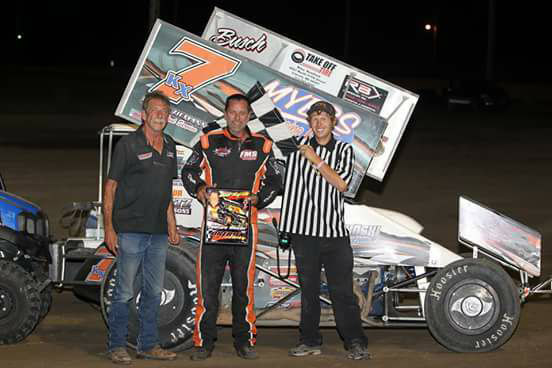 By David Smith Jr.
OBERLIN, Kan. (Aug. 19) – Toby Chapman proved patience is a virtue as he passed race-long leader Jed Werner on the final circuit to claim the thrilling United Rebel Sprint Series feature on Saturday in front of a packed house at Oberlin Speedway on night one of the Bob Salem Memorial.
It looked to be Werner's night but Chapman had other ideas as the Nebraska veteran passed Tracey Hill for the runner-up position with three laps remaining and set his sights on the leader.
On the last lap Chapman put a slide job on Werner in turn one with Werner crossing under and they went side-by-side down the backstretch. Werner drove hard into the bottom of turn three and slid up back into the lead with Chapman crossing under and nipping Werner at the line by a half car length.
Eleventh starting and current series point leader Zach Blurton came through the field to finish third while Hill settled for fourth. Fourteenth starting and hard charger Nick Haygood rounded out the top five.
Feature results – 1. Toby Chapman; 2. Jed Werner; 3. Zach Blurton; 4. Tracey Hill; 5. Nick Haygood; 6. Koby Walters; 7. Steven Richardson; 8. Buddy Tubbs; 9. Nate Berry; 10. John Webster; 11. Nick Nichols; 12. Kaden Taylor; 13. Scott Cochran; 14. Ty Williams; 15. Aaron Ploussard; 16. Mike Taylor; 17. Mark Walinder; 18. Ryan Ellinger; 19. Keefe Hemel; 20. Lonnie Cox.