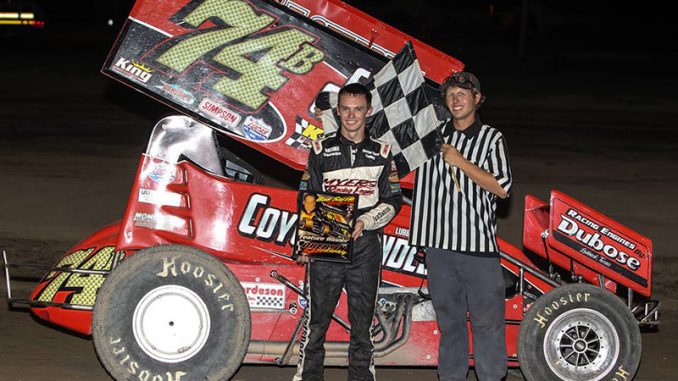 By David Smith Jr.
OBERLIN, Kan. (Aug. 20) – Colorado's Jake Bubak took the lead with two laps remaining to claim the United Rebel Sprint Series checkers on the final night of the annual Bob Salem Memorial Sun­day at Oberlin Speedway.
Bubak passed Zach Blurton for the runner-up position with five laps to go then caught the rear bumper of leader Taylor Velasquez with three laps remaining. One lap later, Bubak completed a slide job in turn one and led the last two times around the track to capture a $1,022 payday and his second URSS victory of the season.
Velasquez settled for second while Nick Haygood came home third. Jed Werner came home fourth and earned $1,500 bonus for being the two-day point champion. Ty Williams rounded out the top five while Blurton rebounded from an earlier excursion off the top of the track to finish sixth.
Nate Berry came from his 19th starting position to finish seventh and claim the overall Keizer Alumi­num Wheels hard charger award for the two-day event and an additional $500 from Law­rence Marshall Trucking.
The $100 hard luck award went to Toby Chapman when his exceptional weekend came to an end while leading after a tangle with a lapped car before midway of the 30-lapper.
Feature results – 1. Jake Bubak; 2. Taylor Velasquez; 3. Nick Haygood; 4. Jed Werner; 5. Ty Williams; 6. Zach Blurton; 7. Nate Berry; 8. Tracey Hill; 9. Steven Richardson; 10. Lonnie Cox; 11. Buddy Tubbs; 12. Craig Jecha; 13. John Webster; 14. Justin Fifield; 15. Kaden Taylor; 16. Todd Plemons; 17. Monty Ferriera; 18. Scott Cochran; 19. Toby Chapman; 20. Austin McLean.