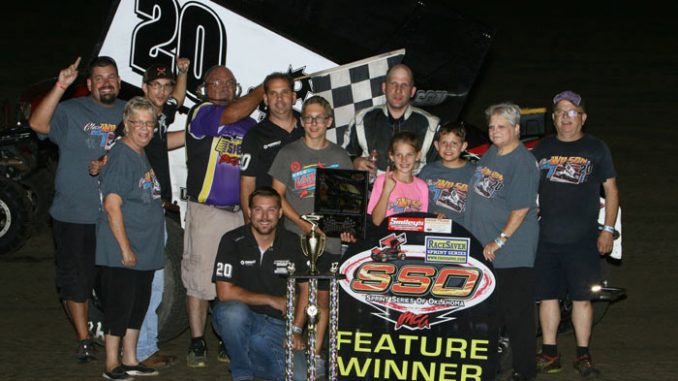 By David Smith Jr.
ARDMORE, Okla. (Aug. 18) – Chad Wilson quickly took the lead from his fourth starting position and never looked back to capture his second career Sprint Series of Oklahoma IMCA RaceSaver Sprint Car feature Friday at Southern Oklahoma Speedway.
Tucker Doughty and defending tour champion Andy Shouse started on the front row for the 20-lap feature with Wilson the one taking the lead as the green flag fell. Several cautions dotted the feature yet Wilson would hold on to become the seventh different winner of the 2017 season.
Tenth starting Michael Day, who won earlier at SOS, came home second while Doughty held on for third. Gary Owens, who had to run and won the 12-lap "B" feature, started 17th and came home fourth while Blake Dacus, who finished second in the "B" feature, rounded out the top five.
Thirty-three cars were entered at Ardmore.
Feature results – 1. Chad Wilson; 2. Michael Day; 3. Tucker Doughty; 4. Gary Owens; 5. Blake Dacus; 6. Brandon Anderson; 7. Chris Kelly; 8. Jeff Day; 9. Loyd Clevenger; 10. Cody Whitworth; 11. Jake Martens; 12. Travis Scott; 13. Tristan Oakes; 14. Andy Shouse; 15. Justin Mowry; 16. Steven Shebester; 17. Tanner Conn; 18. Justin Fifield; 19. Marcus Thomas; 20. Monte Ferriera.