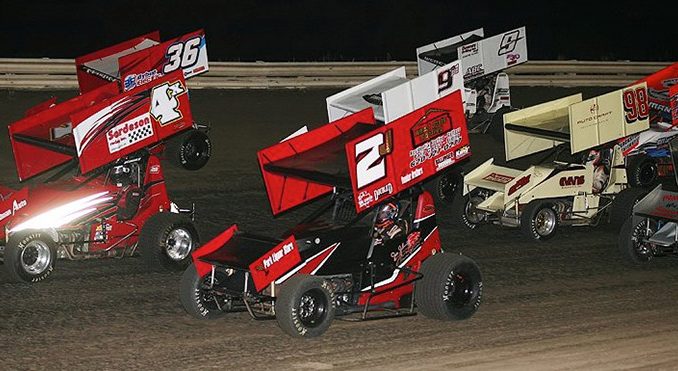 By David Smith Jr.
STOCKTON, Kan. – The United Rebel Sprint Series is set for three straight nights of racing action this coming weekend as the series heads to the Rooks County Fairgrounds in Stockton on Friday night, Aug. 18, before heading to Oberlin Speedway for the annual Bob Salem Memorial on Satur­day and Sunday, Aug. 19 and 20.
Current URSS point leader Zach Blurton will lead the Rebels to this tripleheader weekend. He holds a slim 12-point lead over Steven Richardson in the point standings while Jed Werner is just 24 points out of the point lead.
It has been a season of parity for the URSS as 10 different drivers from three states have reached victory lane in the 10 events held thus far. Among the winners include the most recent, "semi-retired" and defending series champion Luke Cranston, Adam Gullion, Andy Shouse, Richard­son, Ty Williams, Darren Berry, Terry Richards, Toby Chapman, Todd Schwartz and Jake Bu­bak.
Friday night's event in Stockton and Saturday night's opener in Oberlin pay $500 to win while the Bob Salem Memorial Sunday night championship finale will pay $1,000 to win. There will be a $1500 bonus for the high-point driver after both events in Oberlin, courtesy of Myers Racing En­gines, Salem's Mower Sales, Steven James and Ryan Sargent.
Tickets for Friday's Rooks County Fairgrounds event are $10 for adults and $5 for youth. Gates open at 5 p.m. with race action slated for a 7 p.m. start time. Keep in mind this event is part of the an­nual Rooks County Free Fair.
Both Saturday and Sunday tickets for the Bob Salem Memorial at Oberlin are $15 each night for adults, and $8 for ages 7-12 while children ages 6 and under will be admitted into the grandstand for free each night.
More information on the URSS can be found by accessing the tracks official web­site www.unitedrebelsprintseries.com or by calling Rick Salem at 785 475-7010.