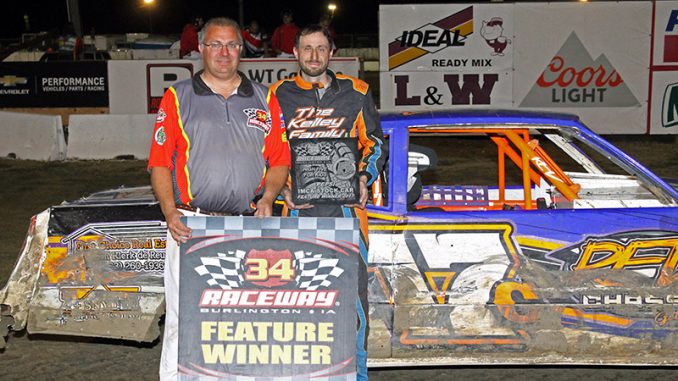 By Brian Neal
WEST BURLINGTON, Iowa (Aug. 5) – It was kids' night at the track but Shane Paris wasn't kid­ding around when it came to the IMCA Sunoco Stock Car special Saturday at 34 Raceway.
Paris proved the fastest in a one-lap dash to the checkers, edging Jake Wenig by inches to take the $1,000 victory, his first this season at West Burlington.
John Oliver Jr. led much of the way before ending in third. Completing the top five were Dane Fen­ton and Tom Bowling Jr.
Oliver made the most of his front row starting spot, pulling away from the rest of the field after a succession of cautions. Challenger Dean Kratzer's run up front came to an end on lap 15 when his engine expired.
Paris and Wenig, who had started 14th, stayed close to Oliver through the next two restarts. Com­ing off turn four to take the white flag, Oliver drifted high and allowed both Paris and Wenig to go by. After the lap was scored complete, the yellow came out again and set up a one-lap dash to the finish.
Paris grabbed the lead and finished just ahead of Wenig. Bowling recovered from his spin on lap 10 to end in fifth.
Feature results – 1.  Shane Paris; 2. Jake Wenig; 3. John Oliver Jr.; 4. Dane Fenton; 5.  Tom Bowling Jr.; 6. Nathan Wood; 7. Chad Krogmeier; 8. Dalton Lynch; 9. Ray Raker; 10. Cody Wash­burne; 11. Mark Bowman; 12. Matthew Gavin; 13. Scott Jordan; 14. Dean Kratzer; 15. Ethan Al­len; 16. Blaine Dopler; 17. Abe Huls; 18. Matt Strassheim.