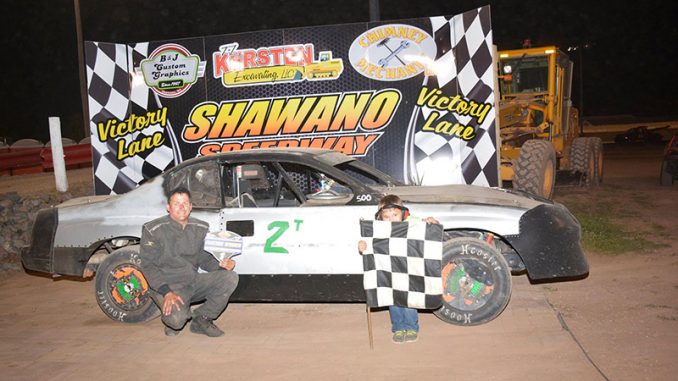 HORTONVILLE, Wis. – Travis Van Straten remembered the excitement that surrounded his first feature win as an IMCA Sunoco Stock Car rookie in 2001.
It was just as exciting to return to Shawano Speedway to get his career 100th victory in the division on July 29.
"I knew going into the class that it would be tough to win one, let alone 100 features," he said. "I was very excited and surprised when I won the first time. My oldest son was just three months old when I won my first feature and I remember the trophy was bigger than he was."
Thirty-four of his feature wins came during Van Straten's national championship season in 2015. He averaged 25 wins a season while compiling seven track and two Allstar Performance State titles from 2014 to 2016.
"I feel very blessed have to have accomplished everything I've been able to. I've had good cars and a lot of good people helping me," he added. "I am very thankful for all the help I've gotten along the way, especially from my wife Gina and sons Trevor and Trey. None of this would have been possible without them."
He's also thankful he didn't get stuck on career win number 99 for too long.
Van Straten came into the season a dozen shy of triple digit wins. After plugging away through some new car issues, he won on back-to-back nights at Oshkosh SpeedZone Raceway and Shawano to reach the century mark.
Jeremy Christians made the Friday race close; a late re-start opened the door for Van Straten the next night at Shawano so he could start prepping for the barrage of What did it take to become the 21st driver in division history with 100 wins? questions.
"I have had good, consistent cars every night out for a long time. I've got a new car this year that I'm working the bugs out of and there was a winless couple of weeks while we were trying out some new setups," he explained.
"We had taken a family vacation to an amusement park in Ohio," continued Van Straten (also noting that he preferred going fast around a dirt track to the ups and downs of a roller coaster). "On the way home my wife suggested getting the old car out and maybe getting to 100 sooner. It's a 2013 Wolfe Chassis, the same car Brandon Czarapata won Super Nationals and a national championship with."
Van Straten has stepped away from the sport for several seasons to devote more time to home and family. He won 23 Karl Chevrolet Northern SportMod features before returning to the Class Too Tough To Tame.
"Feature wins are getting harder to come by. Every track around here has so many good drivers," Van Straten said.