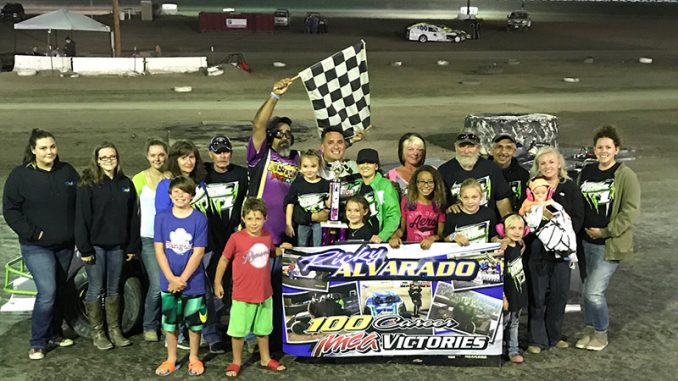 DELTA, Colo. – Ricky Alvarado didn't realize the magnitude of his career 100th IMCA Modified win until he saw the reception waiting for him in victory lane.
Alvarado collected the landmark checkers on July 29 at Montezuma County Fairgrounds Speedway. He'd been runner-up the night before at Cortez to Aaron Spangler, the only other Colorado driver to reach 100 wins in the division.
"There were a lot of people who were all about this win. After I pulled into victory lane and saw their emotions, I realized what a big deal it was," said Alvarado, from Delta. "None of us ever dreamed we'd pull this off. My dad always believed in me and to see the pride in his face was really something."
The win was Alvarado's eighth in 15 starts so far this season. Elected to start the Fast Shafts All-Star Invitational at the upcoming IMCA Speedway Motors Super Nationals fueled by Casey's, he became the 51st driver in division history with 100 career victories to his credit.
"We've been at this for a long time but I'm not done by any means. I've won Spring Nationals and led a lot of laps at the Duel In The Desert. There is still the drive to win the big races," Alvarado said. "Nothing that I have accomplished would have been possible without the support of my family or my fiancée Jessica and her family."
Alvarado tooled around home in a go-kart before starting his Modified career at the age of 16.
While his father Rick had driven the original Wells Work no. 1 ride, Alvarado made a name for himself with the WW1 numbered car, posting double figure wins in four seasons, including a career-best 17 in 2009, and winning the Wild West Tour on three occasions.
Never shy about loading up the trailer and traveling to new tracks, Alvarado has raced in a dozen states and Canada. Where and how often has changed with the growth of his family.
"Cortez is the closest track for us and that's about 3-1/2 hours one way," he said. "We make it a point to go somewhere new every year. If you're going to travel, you might as well go somewhere you've never been before. We want to go places that make it fun and different."
Alvarado has stayed closer to home since starting his 2017 season at Beatrice's Spring Nationals. He's now crew chief for 8-year-old daughter Grace, who started racing quarter midgets a month ago (also in the WW1) and will do double-duty when daughter Holly, now five, starts her own career in that class next year.
"If they enjoy it, I'm definitely going to give them the opportunity to race. They've both been coming to the track since they were about a week old," Alvarado said. "I don't have any regrets about paring back my race schedule. My dad told me he quit to watch me and I'll be the first to admit I was bawling like a baby the first time I watched Grace race."