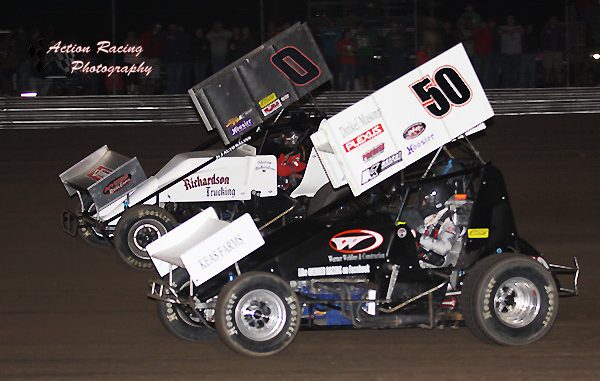 LaCROSSE, Wis. – The United Rebel Sprint Series will go to extremes this weekend as they first visit the quarter mile Bullring at the Rush County Fairgrounds in LaCrosse, Kan., on Friday night and then pack up and head to the big half mile at the famed Belleville Highbanks Saturday to fill the card of the Belleville Midget Nationals Championship night.
Leading the Rebels into the $500 to win show on Friday will be point leader Steven Richardson out of Liberal, who recently won the first night of the Wheatshocker Nationals in Hays. Looking for their first URSS win of the season will be Plainville's Jed Werner who sits a mere 20 points be­hind in second and Quinter's Zach Blurton, only two points behind Werner in third.
Oklahoma's Ty Williams who won in Lexington, Neb., sits fourh with North Platte winner McCook Neb.'s Darren Berry rounding out the top five. As of yet there are no repeat winners this year in the series.
The Bullring is one of the drivers' favorite tracks as it is always immaculately prepared and never disappoints when it comes to wheel-to-wheel action. Races start at 7 p.m.
On Saturday. the Rebels will pack up, make a big gear change and head to Belleville to be part of Championship night for the USAC Belleville Midget Nationals.
Last year's winner J.D. Johnson will return to defend his title and will once again try to lay claim to the $2,000 winner's share with a minimum of $300 to start. Ty Williams will once again return and try to better his last performance there this year, as he was the class of the field as he rim rode on the fence and came from last to third before being involved in a mishap and ending his night.
Other hard runners coming will be Blurton who always runs hard at Belleville as do Jed Werner, Brian Herbert and a host of cars from Kansas, Nebraska, Colorado and Oklahoma.