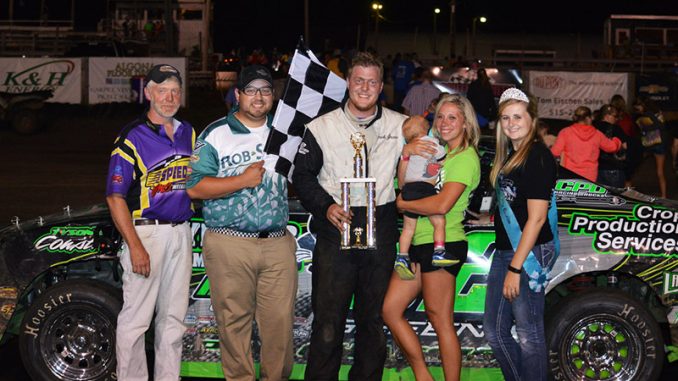 By Greg Grabianowski
ALGONA, Iowa (July 27) – Derek Green used a late-race pass to take home the $2,000 first place money at Kossuth County Speedway's Thursday night IMCA Sunoco Stock Car special.
Green's victory came in the Altenburg Construction 25-lap special. He started deep in the field, avoided getting seriously caught up in either two multi-car collisions that brought the race to a halt be­fore the first lap was scored and passed Keith Knop for the front spot with two circuits left.
"It means a lot to win a big-paying race like this, especially after starting 17th," said Green.  "There were a lot of very good cars here tonight and to get to front from where I started is a big deal to me."
"The car has little rear end sheet metal damage from those two incidents in the beginning of the race but it did not slow me down," he continued. "I could not get around Knop. He finally went into (turn) four a little too hot and I squeezed by him. It is nice to win a race sponsored by Andy Alten­burg and all of the drivers here tonight hope things will continue to get better for him."
Heath Tulp had grabbed the early lead following the two early restarts only to see Eric Bartels drive by two laps later. Knop took charge on lap 10 as Green weaved and bobbed his way through traffic and into the top five.
Green slowly reeled in Knop and stayed right on his bumper until the late opportunity presented itself.
Knop held on for the runner-up spot as 12th starting Brandon Czarapata was third, Randy Brands took fourth and 21st starting Jim Larson was fifth.
More than150 veterans were admitted free to grandstand as part of salute to the veterans by the Hunting With Heroes group of Lakota. Tad Reutzel's IMCA Modified was specially designed with a red, white and blue wrap and emblems of each branch of the armed forces for the evening.
Feature results – 1. Derek Green; 2. Keith Knop; 3. Brandon Czarapata; 4. Randy Brands; 5. Jim Larson; 6. Chad Palmer; 7. Dustin Larson; 8. Heath Tulp; 9. Kyle Frederick; 10. Abe Huls; 11. Da­vid Wickman; 12. Dusty Van Horn; 13. John Wiemann; 14. Chad Overgaard; 15. Tyler Pickett; 16. Jesse Ely; 17. Calvin Lange; 18. Shawn Wagner; 19. Kevin Stoa; 20. Jason Minnehan; 21. Elijah Zevenbergen; 22. Curt Lund; 23. Jake Masters; 24. Kyle Vanover; 25. Eric Bartels; 26. Bruce Wickman.