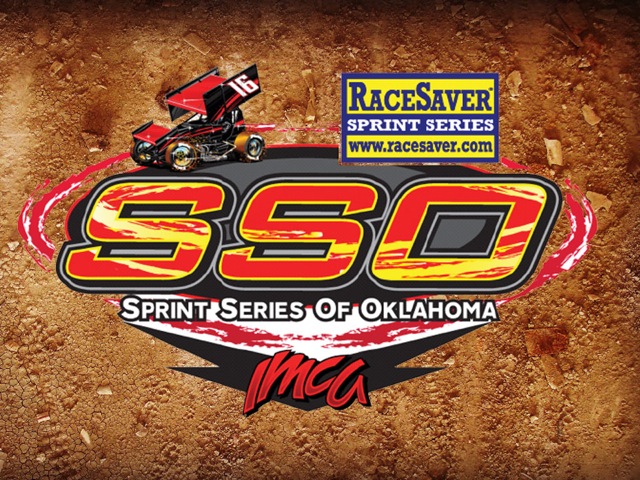 By David Smith Jr.
ELK CITY, Okla. (July 22) – Steven Shebester took the lead at the start, then held off a fast-clos­ing Joe Wood Jr. at the end to win the Sprint Series of Oklahoma feature Saturday at Elk City Speed­way.
The IMCA RaceSaver Sprint Car series victory was his career first.
Shebester started on the front row for the 25-lap feature and took the lead as the green flag fell.
The Mustang, Okla., driver had his hands full with defending national and series champion Andy Shouse as the frontrunners approached traffic near midway.
Shebester handled lapped traffic while Shouse had his hands full with Wood. Wood, who took over the runner-up position and set his sights on the leader.
Gunning for his second feature victory in a row and third career, Wood got a run underneath the leader coming out of turn four on the last lap. Shebester held on for his first career victory in only his fifth start piloting a Sprint Car.
Wood settled for second while Shouse came home third. Brandon Long and Zach Blurton rounded out the top five.
Presented by Smiley's Racing Products, the Sprint Series of Oklahoma will be back in action Fri­day night, July 28 at Wichita Speedway.
Feature results – 1. Steven Shebester; 2. Joe Wood Jr.; 3. Andy Shouse; 4. Brandon Long; 5. Zach Blurton; 6. Blake Dacus; 7. Jake Martens; 8. Cody Whitworth; 9. Chris Kelly; 10. Josh Toho; 11. Michael Gossman; 12. Loyd Clevenger; 13. Dillon Laden; 14. Justin Fisk; 15. Blake Scott; 16. Jerry Jumper; 17. Justin Mowery; 18. Tristan Oakes; 19. Chase Smith; 20. Tanner Conn; 21. Chad Koch.