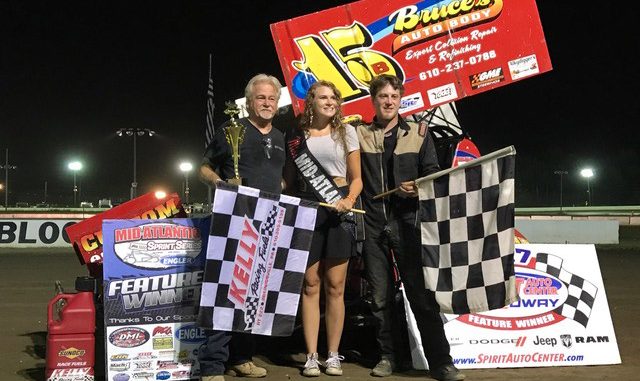 By Erika Palmai Wagner
BRIDGEPORT, N.J. (July 21) – The Mid-Atlantic Sprint Series had a first-time feature winner and its first repeat victor of the season Friday at Bridgeport Speedway.
Bryant Davis scored his first career IMCA RaceSaver Sprint Car win in make-up feature from June 17 while Rick Stief, who finished second to Davis in that race, visited victory lane for the second time this season in the nightcap.
Davis was rightfully thrilled while celebrating with his father Bruce in victory lane, saying "We were so frustrated with this car before this feature, my dad almost stuck a 'for sale' sign on her with a $500 price tag on it. This couldn't have come at a better time for us. I'm just so happy that we finally got this win."
Davis led the entire race, holding off Stief following multiple cautions.
At one point, the pair ran side by side for a nail-biting two laps, but it was Davis who would come out on top using the bottom line after Stief was running on his usually preferred high side.
The second 20-lap event saw Tim Tanner Jr. and Stief square off at the start, each with intentions of earning their second win of the season.
After a lap two restart, there was a handful of battles brewing all throughout the top six running cars, with the battle for the lead between Tanner and Stief heating up. It wasn't until lap seven when Stief finally completed the pass for first place, gaining over a straightaway gap between him and the rest of the field.
The Mid-Atlantic Sprint Series returns on Saturday, July 29 to Bridgeport Speedway for an Engler Machine and Tool-sponsored night.
Feature Results
Make-up feature – 1. Bryant Davis; 2. Rick Stief; 3. Dave Brown; 4. Eddie Wagner; 5. Tim Tanner Jr.; 6. Jeff Geiges; 7. Mark Bitner;  8. Tommy Carberry; 9. Austin Bishop; 10. Samantha Lieberman; 11. Bobby Butler; 12. Zack Burd; 13. Tom Carberry; 14. Dean Conk Jr.; 15. J.C. Webster; 16. Jamie Kostic; 17. Joe Kay; 18. Stefanie Palmai Carberry; 19. Craig Pellegrini Jr.; 20. David Bonner.
Scheduled feature – 1. Stief; 2. Tanner; 3. Bishop; 4. Bitner; 5. Wagner; 6. Geiges; 7. Tommy Carberry; 8. Brown; 9. Tom Carberry; 10. Tyler Jashembowski; 11. Lieberman; 12. Davis; 13. Burd; 14. Kay; 15. Butler; 16. Bonner; 17. Keith C. Andersen; 18. Conk; 19. Kostic; 20. Webster; 21. Pellegrini; 22. Stefanie Palmai Carberry.