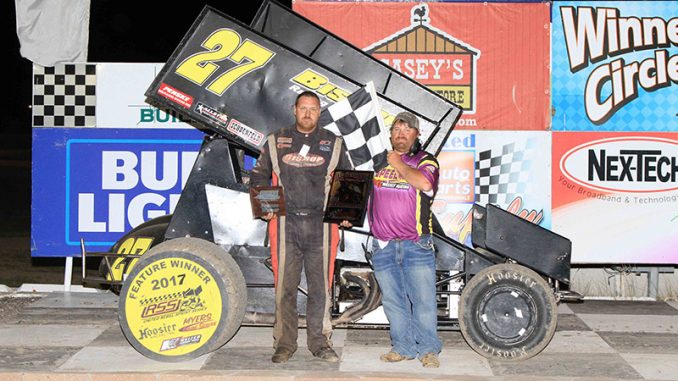 By Nick Schwien
HAYS, Kan. (July 16) – A night earlier, Andy Shouse joked that he needed more laps around the dirt oval at RPM Speedway since he hadn't raced at Hays for several years.
Apparently, Shouse is a quick learner.
On Sunday night, the defending IMCA RaceSaver Sprint Car national champion walked away with the United Rebel Sprint Series victory and $2,000 in the ninth Wheatshocker Nationals. He also took home the Custom Pit Boss Smoker Grille presented by Lance Pittman of S&W Supply for being the high point driver of the Wheatshocker weekend.
Shouse made a late charge en route to finishing second during Saturday night's qualifier. On Sun­day, he drew the fourth starting spot.
"To be honest, we really just do our basic stuff," Shouse said about being so fast at the 3/8-mile oval. "I think the big thing is we don't really race at one race track all the time. We usually travel all over and see a lot of different places. I think that definitely helps us when we come to some­place new.
"It's always tough when you get locals who have run at this race track a number of times," he contin­ued. "But we're usually pretty good when we go to a new race track of getting it figured out in good time."
He figured it out quickly, running first but just inches ahead of Koby Walters when lap six was scored. He cleared Walters the next time around and controlled the pace until catching up with the back of the field.
2015 race winner Zach Blurton pounced when Walters bobbled to take over the second spot.
Walters finished third, with Jed Werner and Jake Bubak next.
Feature
 results – 1. Andy Shouse; 
2. Zach Blurton; 
3. Koby Walters; 
4. Jed Werner; 
5. Jake Bu­bak
; 6. Austin McLean; 
7. Luke Cranston; 
8. Ty Williams; 
9. Nate Berry; 
10. Steven Richard­son; 
11. Keefe Hemel; 
12. Kaden Taylor; 
13. Todd Plemons
; 14 . Brandon Anderson
; 15. Brandy Jones; 16. Lance Davis
; 17. Tracy Hill; 
18. Lonnie Cox; 
19. Brian Herbert; 
20. Taylor Velaquez.