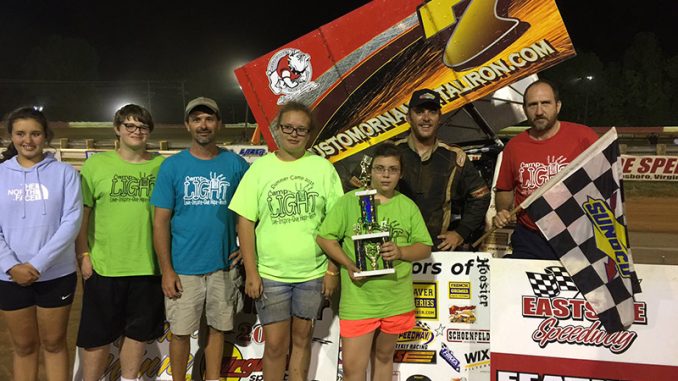 By Jim Haines
WAYNESBORO, Va. (July 15) – Troy Severin was fast in the Friday Virginia Sprint Series feature and came through the field for another second place finish.
That was just a preview for Saturday at Eastside Speedway where he raced to his first IMCA Rac­eSaver Sprint Car tour victory.
Severin was out first and kept Mike Keeton at bay while Daren Bolac and Mike Lerass lurked close behind.
Leraas got by Bolac and went after Keeton but spun. With the green out again, Severin stayed smooth on the bottom and sprinted under the checkered flag for win number one with Keeton close behind.
Feature results – 1. Troy Severin; 2. Mike Keeton; 3. Tom Humphries; 4. Daren Bolac; 5. An­thony Harris; 6. Anthony Linkenhoker; 7. Bill Rice; 8. Chris Ware; 9. Neil Sandridge; 10. Charlie Ware; 11. French Grimes Jr.; 12. Mike Leraas; 13. Brian Lawson.