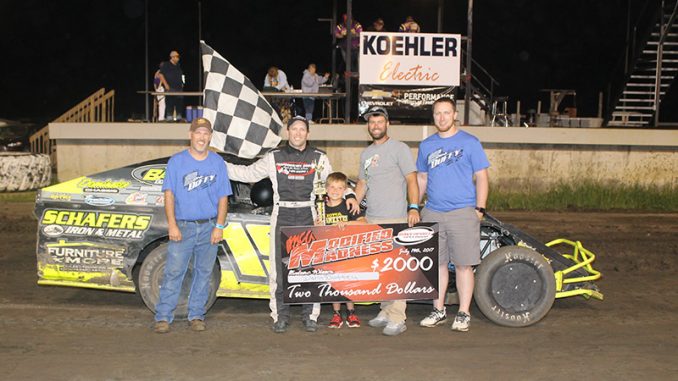 By Mike McGuire
DAVENPORT, Iowa (July 14) – The driver who almost didn't get to the track in time to qualify for Davenport Speedway's IMCA Modified Madness 50 on Friday ended up winning it.
Darin Duffy almost missed the event when eastbound traffic was slowed and then rerouted due to an accident on Interstate 80. After following the detour on a county road and through a couple towns, he arrived just in time to start last in the final "B" feature.
"I was so close to turning around," Duffy admitted. "When we finally got to the track, my guys got my car out of the trailer and I got my suit on quick. After I qualified, I thought if I could get up to fifth or so I'd be doing really good."
Starting 22nd in a field of 24, Duffy was all the way up to fourth when the caution flag flew on lap 25.
2015 race winner Tyler Droste took the lead from Jason Pershy on lap 28. Running the high side, Duffy worked his way past Kurt Kile and Pershy before setting his sights on Droste.
Coming to the white flag, Duffy dove under Droste, leading the final two laps for the $2,000 win. Droste finished a close second, with Pershy holding onto third. Kile took fourth and Greg Durbin fifth.
Already on the Fast Shafts All-Star Invitational ballot, Duffy also became the first repeat winner of IMCA Modified Madness. His previous win came in 2013.
"Usually the night goes bad when it starts like this. Somebody will spin in front of you or you get a flat tire," Duffy said. "This night, every thing went right – at the track."
Feature results – 1. Darin Duffy; 2. Tyler Droste; 3. Jason Pershy; 4. Kurt Kile; 5. Greg Durbin; 6. Chris Zogg; 7. Bob Dominacki; 8. Mitch Morris; 9. Milo Veloz; 10. Bryce Garnhart; 11. Eric Barnes; 12. Rick Hixson; 13. Matt Werner; 14. Doug Crampton; 15. Josh Starr; 16. Stephan Kammerer; 17. Bruce Hanford; 18. Cayden Carter; 19. Steve Johnson; 20. Jeff Larson; 21. Kevin Blum; 22. Rick Ratliff; 23. Rob Toland; 24. Jordan Hicks.