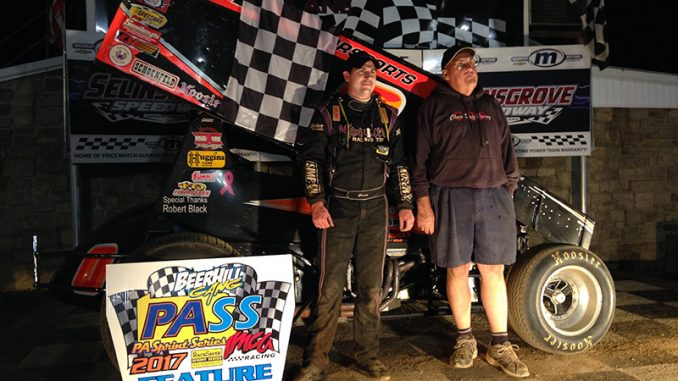 SELINSGROVE, Pa. (July 9) – Kyle Ganoe was in the right place at the right time Sunday night at Selinsgrove Speedway.
Ganoe was running third in the Pennsylvania Sprint Series main event when frontrunners Austin Bishop and Tyler Reeser tangled on lap nine.
Both were out for the night. Ganoe inherited the lead and stayed on the higher line to lead Jaremi Hanson across the stripe.
Zach Newlin, Nathan Gramley and Dave Grube were the rest of the IMCA RaceSaver Sprint Car top five.
The win was Ganoe's PASS third this season and second in his last three starts.
Feature results – 1. Kyle Ganoe;  2. Jaremi Hanson ; 3. Zach Newlin; 4. Nathan Gramley  5. Dave Grube; 6. Cale Reigle; 7. Mike Alleman; 8. George Riden; 9. Erin Statler; 10. Jared Zionkow­ski; 11. Fred Arnold; 12. Fred Arnold; 13. Dave Graber; 14. Vance Berry; 15. Austin Bishop; 16. Tyler Reeser; 17. Ken Duke; 18. Ian Cumens.