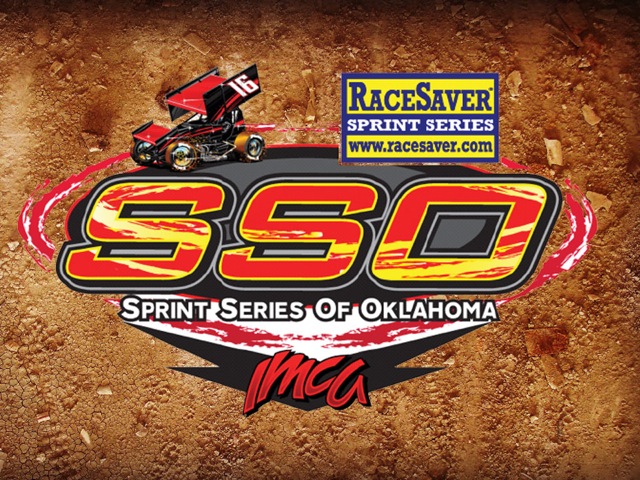 By David Smith, Jr.
MEEKER, Okla. – It will be a night of firsts this Friday, July 14 for the Sprint Series of Oklahoma presented by Smiley's Racing Products.
The IMCA RaceSaver Sprint Series makes its way to Red Dirt Raceway in Meeker for the makeup-running of the Freedom 40 rained out back on June 30.
Contributions to the purse, to the tune of $1,500, has been added to make this the largest purse in the two-year history for the series with Friday night's feature winner earning $1,000. Just to start the 20-car feature pays $275. A full night of heat races, last chance and the 40-lap feature finale will be on tap, the most laps ever run the series.
The night's racing action will conclude with a huge-fireworks show.
Jake Martens is winless thus far this season but holds a 21-point lead over defending series champion Andy Shouse. Shouse currently has three victories on the season and four in the two-year history for the series.
Chad Koch sits third in the standings while Loyd Clevenger and Joe Wood Jr. are the top five in the standings. Sixth through 10th are Chris Kelly, Tristan Oakes, Justin Fisk, Cody Whitworth and Brandon Long.
Drivers also expected to compete include Shayla Waddell, Jerry Jumper, Steven Shebester, Dillon Laden, Gary Owens, Blake Scott, Justin Mowery, Chase Smith, James Fabian, Tanner Conn and Blake Daccus.
Contributing to the purse for this event were Tim Young at Young Tool and Equipment; Paul Martens and Martens Machine Shop in Fairview; Bishop Racing Components; Victory Motorsports and Messmer Racing LLC.
Feature purse amounts are 1-$1,000; 2-$600; 3-$500; 4-$400; 5-$375; 6-$350; 7-$345; 8-$340; 9-$335; 10-$330; 11-13, $325; 14-$315; 15-$310; 16-$305; 17-20, $275.
"B" Feature: 1-4) transfer; 5-$200; 6-$125; 7) $125; 8-$125. The balance of non-qualifiers will receive $100.
Gates open at 5 p.m. The drivers' meeting is at 6:30 p.m. and racing starts at 8 p.m. Grandstand admission is $15 for adults while children 10 and under will be admitted free.