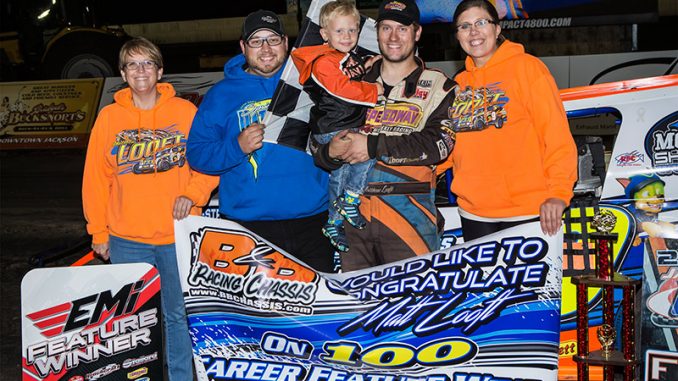 SWEA CITY, Iowa – Winning a single feature was a pretty big deal during Matthew Looft's Karl Chevro­let Northern SportMod rookie season.
He's raised the bar considerably since then.
The Swea City, Iowa, driver won for the 100th time in his career in the division on June 30 at Jackson Motorplex. The checkers were the ninth of the season for Looft, who has averaged better than 17 wins a year since his rookie campaign in the IMCA division.
"It's pretty surreal," admitted Looft. "If someone told me back in 2010 that I'd get 100 wins, I would have said they were crazy. It's something I never planned on. It took a lot of work by a lot of people."
Looft won a career-best 26 features in 2013. He became the only driver to earn back-to-back na­tional championships in the class on the strength of 18 wins the following year.
Along with a division-leading 18 track and special series championships, Looft is a five-time All­star Performance Minnesota State titlist.
"Winning a national championship is a commitment to winning a lot of features and track champion­ships in a single season," said Looft. "Winning 100 features ranks pretty high up there among everything I've accomplished."
"I feel fortunate to have done it," he added. "Every win is hard-earned because there are so many good drivers around here."
Win number 100 was his third this season at Jackson, where Looft has won a pair of track crowns. He's the four-time track champion and a triple winner so far in 2017 at Fairmont Race­way.
"I really enjoyed racing at Arlington and am sure that I probably won there more than at any other track," Looft said. "Fairmont is about 25 miles from home and with the switch in race nights, that's where we're running on Saturdays."
Looft is the fifth driver in division history to reach the 100 feature win mark. His wife Brittney has wrenched on the car from day one and has been there for every one of those victories – she's only missed two of his starts in 10 seasons – and young son Brayden is already helping change tires and scrape mud off the car.
"This class is affordable and very competitive. As far as I'm concerned, they're just as exciting as any other class," Looft said. "I've driven other kinds of cars and this class is probably my favorite. They're very fun to drive."