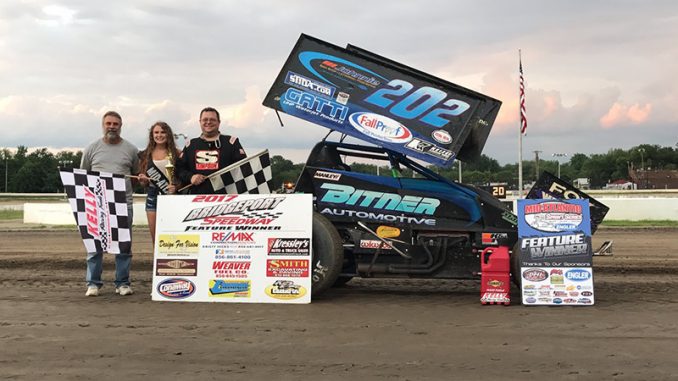 By Erika Palmai Wagner
BRIDGEPORT, N.J. (July 8) – Mark Bitner took home his first Mid-Atlantic Sprint Series win of the sea­son Saturday at Bridgeport Speedway, by a margin of three thousandth's of a second over Rick Stief.
Bitner had led from the start and without any challenge until a late-race caution bunched the IMCA RaceSaver Sprint Car field back together.
That yellow was the only caution of the contest and came with five laps to go.
With two laps remaining Stief began working the outside lane, edging closer to Bitner in the final moments. As they exited turns three and four, Stief and Bitner were running inches away from each other and were virtually side-by-side coming across the line.
In the end, officials referred to photographs to name Bitner the winner with Stief coming home a very close second.
The Mid-Atlantic Sprint Series returns Friday, July 21 to Bridgeport Speedway for a double feature event. The Sprints will be completing the make-up feature from June 17 along with running a full night's program.
Feature results – 1. Mark Bitner; 2. Rick Stief; 3. Tim Tanner Jr.; 4. Eddie Wagner; 5. Jeff Geiges; 6. Tommy Carberry; 7. Scott Frack; 8. Brendon Poff; 9. Jamie Kostic; 10. Sam Lieber­man; 11. Bryan Davis; 12. Zack Burd; 13. Bobby Butler; 14. David Bonner; 15. Tom Carberry; 16. Dean Conk; 17. Larry McVay; 18. Craig Pellegrini Jr.; 19. Stefanie Carberry; 20. Bobby Scherff; 21. Austin Bishop; 22. J.C. Webster; 23. Keith Andersen.