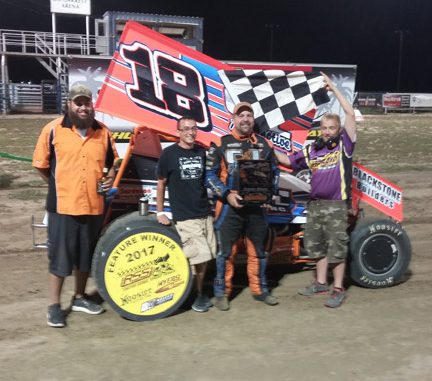 COLBY, Kan. (July 7) – Terry Richards put in a dominating performance as he led every lap of night two of the Summer Sizzler Week for the United Rebel Sprint Series at Thomas County Speed­way.
The 25-lapper ran green to checkered. Jake Martens charged past Scott Rhoades for second at the halfway mark and began reeling in Richards but fell short of reaching his back bumper.
The win was Richards' URSS first. Zach Blurton made a late-race charge of his own to capture third, followed by Rhoades and Mark Walinder to complete the top five.
Thirty-one cars vied.
Feature results – 1. Terry Richards; 2. Jake Martens; 3. Zach Blurton; 4. Scott Rhoades; 5. Mark Wal­inder; 6. J.D. Johnson; 7. Patrick Bourke; 8. Nick Haygood; 9. Darren Berry; 10. Ty Williams; 11. Steven Richardson; 12. Todd Plemons; 13. Nate Berry; 14. Shane Sundquist; 15. Scott Cochran; 16. Buddy Tubbs; 17. Jed Werner; 18. Bob Schaeffer; 19. Coby Pearce; 20. Tracy Hill.