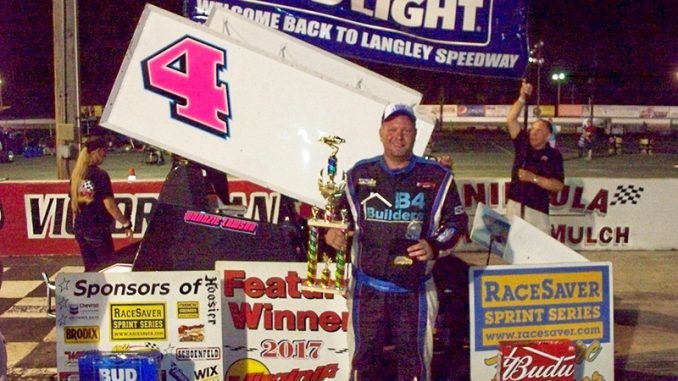 By Jim Haines
HAMPTON, Va. (July 1) – On a hot Saturday evening at Langley Speedway, rookie Bronzie Lawson found the way to the front of the Virginia Sprint Series field and stayed there for his first IMCA RaceSaver win.
Mike Leraas and Mike Keeton paced the field to feature green and raced that way for a lap before Leraas edged away with Jerald Harris on his tail.
Harris went high and into the lead, leaving Leraas to deal with Keeton as Lawson worked his way up to fourth. Harris streaked away until he misjudged lapping a car, ending both their nights against the wall.
Lawson restarted third and quickly got by Keeton for second. With 10 laps to go, Lawson got a run and moved to the front and stayed smooth and steady all the way to the checkered flag.
Feature results – 1. Bronzie Lawson; 2. Mike Leraas; 3. Mike Keeton; 4. Tom Humphries; 5. Anthony Linkenhoker; 6. Bill Rice; 7. Glenn Worrell; 8. Chris Ware; 9. Josh Perreault; 10. Ron Moyers; 11. Neil Sandridge; 12. Jack Rice; 13. Tony Harris; 14. Charlie Ware; 15. Jerald Harris; 16. Daren Bolac.